Ancestry helps you find your Irish ancestors—and the places they called home
Get FREE ACCESS* to over 170 MILLION Irish records including passenger lists, peerage and royalty directories, census records, photos, and more. Free access valid through Monday, March 18th – VIEW DETAILS
I found my 2nd Great-Grandmother Bridget Farren!
Here is why you should ALWAYS stop and take advantage of any FREE ACCESS offer and search for your ancestors. With the current free access to over 170 MILLION Irish records, I'm finally able to confirm information about my 2nd great-grandmother Bridget Farren! Here's how I did it:
I entered the information I knew based on a family story passed down to me by my great grand-mother Therese McGinnes Austin. She said that her mother was named Bridget Farren and born in Ireland about 1867. So I entered the parameters in the Ancestry search screen:
I had to sort out several other Bridget Farrens, but I'm pretty sure that I can prove that she was born around July 1869 in Donegal, Ireland, to John Farren and Ellen Doherty:
And here is the image of the baptismal registry listing the sponsors Henry Farren and Mary Doherty:
And the best part? While I was looking at "hints" for Bridget Farren, I found a new photo posted by a distant cousin!
Need a Little Help with Irish Names or Places? FREE DOWNLOAD!
Get the free PDF download Finding Your Irish Immigrant Ancestors from Ancestry to help you find your ancestor!
Save 25% on Ancestry Memberships!
HUGE SALE on Ancestry Memberships! There's no better way to find generations of your family and their stories. Start your journey today with 25% off for the first six months or first year, depending on what package you select. VIEW DETAILS
U.S. Discovery: Explore your American heritage in 15 billion records from all 50 states. A 6-Month Membership, regularly $99, now just $74!  A 1-Year Membership, regularly $189, now just $140!
World Explorer: Discover your international family with access to billions of global records from 80 countries. A 6-Month Membership, regularly $149, now just $110!  A 1-Year Membership, regularly $299.40, now just $224!
All Access: Get access to everything on Ancestry®, Fold3®, and Newspapers.com™ Basic. A 6-Month Membership, regularly $199, now just $149!  A 1-Year Membership, regularly $389, now just $290!
AncestryDNA Just $59 during Saint Patrick's Day Sale!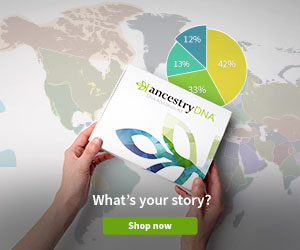 AncestryDNA: Save 40% on AncestryDNA test kit during the AncestryDNA St Patrick's Day Sale! Right now you can get AncestryDNA for just $59 USD!  VIEW DETAILS
AncestryHealth®: Save $50 on AncestryHealth DNA test kit during the Ancestry St Patrick's Day Sale! Regularly $149, now just $99*! VIEW DETAILS
*NOTE: Sale valid through March 18th. Shipping and sales tax NOT INCLUDED.  AncestryHealth® not available in NY, NJ and RI.
*Access to the records in the featured collections will be free until March 18, 2020 at 11:59 p.m. ET. After the free access period ends, you will only be able to view the records in the featured collections using a paid Ancestry® World Explorer or All Access membership. To see a full list of the records in the featured collections, please click here.
©2020, copyright Thomas MacEntee.  All rights reserved.