Are Your Smiling Eyes Irish? Find out with AncestryDNA – just $59!
Right now you can save 40% on AncestryDNA – the world's most popular personal DNA test kit – and pay just $59! Take advantage of the AncestryDNA Saint Patrick's Day Sale now through Monday, March 18th and discover more about your own ethnicity.
Add AncestryDNA Traits for Just $10!
Go deeper into what connects you to family, past and present! New AncestryDNA Traits can help you understand your genetic inheritance—whether you share eye color with other people from Ireland or your cousin dislikes cilantro like you. It's a whole new way to think about your family story.
With AncestryDNA Traits you can see how your DNA influences:
Earlobe type
Cleft chin
Earwax type
Eye color
Finger length
Hair color
Hair curl
Hair thickness
Freckling
Iris patterns
Male hair loss
Skin pigmentation
Unibrow
Asparagus metabolite detection
Bitter taste perception
Cilantro aversion
Sweet taste perception
Savory (umami) taste perception
In addition, AncestryDNA Traits will include a Compare Feature with which you can "invite other family and DNA matches who have purchased traits to compare what which traits you have in common."
Add Traits to Your Existing AncestryDNA Test for Just $9.99!
If you've already tested with AncestryDNA, use the link above to simply add Traits to your current test results. The cost is just $9.99 and you'll be amazed at what you find! Click HERE for more info.
New and Improved AncestryDNA Matching Tools
When you purchase your AncestryDNA test kit and receive your results, you'll get access to the brand new AncestryDNA matching tools.
AncestryDNA has redesigned the DNA Match experience to help you make more discoveries, faster. You can now use color coding, custom labeling, and other innovative new tools to see your AncestryDNA connections in the clearest light possible. Click HERE for details.
Don't Delay! Save 40% TODAY!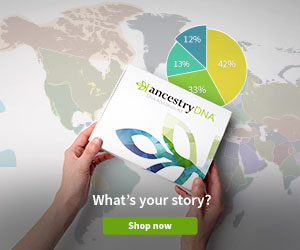 It can be so easy to let a sale like this pass you by. Don't tell yourself you'll remember to purchase AncestryDNA over the weekend . . . you will probably forget! Get AncestryDNA for just $59 NOW!
***
PLEASE NOTE: The post content above contains affiliate links. This means I make a percentage of sales via these links. This does not INCREASE the price you pay as a consumer. It simply supplements my income so I can continue providing as much free genealogy content as possible through my "abundance model."
Disclaimer: All prices and offers are subject to change. Some items may be sold out and have limited inventory. Also check to see if you have automated purchase settings enabled, such as Amazon Buy with 1-Click: it is your responsibility to make sure you are getting the correct price for an item before you check out and finalize the transaction.
Amazon Associates Statement:  We are a participant in the Amazon Services LLC Associates Program, an affiliate advertising program designed to provide a means for us to earn fees by linking to Amazon.com and affiliated sites.
Disclosure statement: I have material connections with various vendors and organizations. To review the material connections I have in the genealogy industry, please see Disclosure Statement.
Content and Images: All content including images have been used by permission from each vendor.
©2019, copyright Thomas MacEntee. All rights reserved