Save 50% or more at DNA Bargains!
Every day someone is making amazing discoveries about their family history through personal DNA testing. DNA Bargains has all the latest information on available DNA tests and resources on how to get started with genetic genealogy. PLUS check out our latest deals on DNA test kits – with savings of 50% or more!
Are you curious about DNA testing? Ever wonder about your ethnic background and where you come from? Are you trying to find a birth parent or a long-lost sibling? Personal DNA testing has provided amazing opportunities for many over the past few years. At DNA Bargains, you can get all your DNA testing questions answered including:
Which DNA test is right for me?
What is the difference between the DNA companies including Ancestry, MyHeritage, 23andme, FamilyTreeDNA and others?
What other family members should I have tested for DNA?
What will the DNA test data reveal?
How private are DNA tests?
Get answers to these questions and many more at DNA Bargains!
---
Ancestry Father's Day Sale! Save on Memberships and AncestryDNA!
NEW! Ancestry: Save BIG on AncestryDNA and Memberships during the AncestryDNA Father's Day Sale! AncestryDNA kits just $59 USD!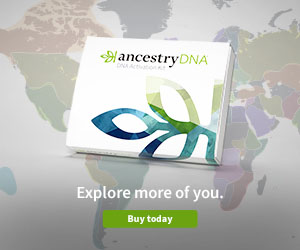 BONUS! For just $1 USD more, you can get an AncestryDNA test kit PLUS a 3-month subscription to Ancestry World Explorer!
Also save 20% on gift memberships at Ancestry!
*Offers end 20 Jun 2021 at 11:59 p.m. ET. While supplies last. Family Tree Bundle offer is for new and returning subscribers only and not for renewal of current subscriptions. Your subscription will automatically renew at $79.95 every three months after the introductory 3-month offer. If you don't want to renew, cancel at least two days before your renewal date by visiting the My Account section or by contacting us. See our Renewal and Cancellation Terms for further details.
---
MyHeritage Father's Day DNA Sale – Just $59!
"That ancestor is NOT THE FATHER!" Make sure with the MyHeritage DNA test kit only $59 USD during the MyHeritage DNA Father's Day Sale!  Click HERE or below for details!
©2021, copyright Thomas MacEntee. All rights reserved.