This Remembrance Weekend, Discover the Military Heroes in your Family – FREE ACCESS to Canadian Military Records at Ancestry
"Discover the missing pieces of your family's military history. Find out more about where they fought and the experiences they had. Start completing your family's WWI story today with free access to service records, medical cards, casualty lists* and much more—free until 11 November. VIEW DETAILS
*Free access from 08 Nov 2019 to 11 Nov 2019 at 11:59 p.m. ET. Registration required. After the free access period ends, you will only be able to view the records in the featured collections using an Ancestry.ca paid membership.
AncestryDNA Canada on SALE!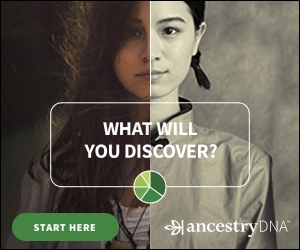 Save during the AncestryDNA Canada Holiday Sale! Our friends to the North can get in on the AncestryDNA Holiday Sale as well with a savings of $40 CAD! Regularly $129 CAD, you pay just $89 CAD**! Stock up now for the holidays! VIEW DETAILS
**NOTE: Sale valid through Wednesday, November 27th. Shipping and sales tax NOT INCLUDED.
©2019, copyright Thomas MacEntee.  All rights reserved.