This Veterans Day, Discover the Military Heroes in your Family – FREE ACCESS to Military Records at Ancestry
In honor of Veterans Day, Ancestry, the global leader in family history and consumer genomics, is allowing everyone to search their archive of US military records for FREE from November 8 at 7:00PM EST through November 17 at 11:59PM EST.
"For the past 30 years, our focus has been digitizing and making historical content accessible for everyone – today, we offer more than 10 billion historical documents, including an unmatched collection of more than 250 million military records. As America celebrates Veterans Day this year, and its service members who have fought (and still fight) to uphold American values, we are encouraging Americans to discover more about the role their families may have played in our nation's military history.
With more than 260 million US military records, people will be able to find inspiring stories about family members who served our country from draft cards, enlistment records, soldier pension indexes and more, covering almost 400 years of American history." VIEW DETAILS
AncestryDNA on SALE!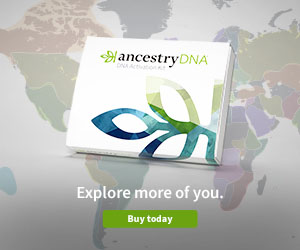 AncestryDNA: Save 40%* on AncestryDNA test kit! Stock up now for the holidays and get AncestryDNA for just $59 USD! BONUS! Also save 20% on Ancestry Gift Subscriptions! VIEW DETAILS
*NOTE: Sale valid through Wednesday, November 27th. Shipping and sales tax NOT INCLUDED.  AncestryHealth® not available in NY, NJ and RI.
©2019, copyright Thomas MacEntee.  All rights reserved.