Genealogist: Treat Yourself!
Ok I'll say it. 2020 as a year just sucks. COVID pandemic, natural disasters, being out of touch with friends and family. And today, I just found out that a friend's father passed away and another friend's mother needs a double mastectomy. Doesn't it seem like 2020 is the gift that won't stop giving?
I don't know what you're coping mechanisms are. I'm thankful for all my followers and friends who help keep me centered. And I've had to retreat into my genealogy bubble to keep out all the "negative." Know what really helps?
A bath! This is my one indulgence … a nice hot soak in the whirlpool tub, a lavender rosemary bath bomb, a glass of Sauvignon Blanc, and Nina Simone on the stereo . . . Calgon take me away!
Shift Happens: Learn to Turn
The BIGGEST LESSON OF 2020 for me? Shift happens so learn to turn. This means I need to go with the flow, make the most of 2020, increase my genealogy knowledge, and prepare for success in 2021. I know it can't be worse than this year. Each time in 2020 when I thought we hit bottom, I discovered there was a basement! So I prescribe a regiment of self-care, lots of genealogy research, and laying a foundation for REAL PROGRESS in finding your ancestors!
Genealogist Self-Care
So for me, 2020 has been about self care as well as taking care of family. I haven't totally written off 2020, at least not in terms of my genealogy. I've never spent more time on my own research than I have in the past few months. And I've made AMAZING progress because I decided to add to my genealogy toolbox. All the money I saved by not traveling to genealogy conferences and by not going out to dinner recently was instead spent money on things I wanted to help me with my family history.
So Here Is My List of Genealogy Goodies for 2020!
Hi, it's me, Thomas MacEntee of GenealogyBargains.com. I can't guarantee that any or all of these tools are a good fit for your genealogy research or will give you the same results. As they say, your mileage may vary. But trust that every offer I post is vetted by me and is something I've used or I've fully researched. In most cases I know the CEO of the company and we've discussed their products and services. Plus, every link you click below helps me provide FREE CHEAT SHEETS as well as a low $100 USD webinar price for genealogy societies and libraries which are really struggling right now.  I thank you for following me and your time.
Here are the LATEST deals on DNA test kits, genealogy books and webinars, and more!
---
---
---
---
---
AncestryDNA:

Save 40%

on the World's Most Popular DNA test kit!

Just $59 USD!

SHOP NOW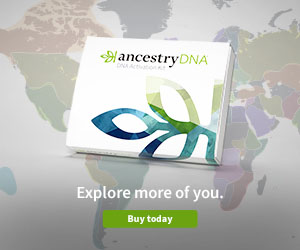 AncestryHealth: Save $80 USD – only $99 USD plus get 3 months of Ancestry World Explorer for just $1 USD! SHOP NOW
---
Save 50% at DNA Hunters Society! Treat yourself to a full year of DNA and Genealogy Education. Right now my friend Mary Eberle has a great offer … save 50% on a one year membership at her new DNA Hunters Society! PLUS you can get a gift membership with the same savings which DOES NOT AUTO-RENEW!
Mary and I produced a popular series of DNA Boot Camps over the past few years and I can tell you she knows her stuff! If you've struggled to understand your DNA test results … see Mary!
DNA Hunters Society is the perfect solution! It's a group of passionate genealogists excited about using DNA to achieve their goals. SHOP NOW
---
Evidentia: Save 20% on Evidentia Software to help you find errors in your genealogy research! Also organizes your source citations and suggests possible record sets! SHOP NOW
---
Family History Hound:

Save 10%

at Family History Hound! My friend Ellen Thompson-Jennings runs this fun and quirky online store – Family History Hound – where you never know what you'll find! From DNA books, to book lights, to amazing family history inspired jewelry! Save 10% when you use promo code Thomas2021 at checkout! SHOP NOW
---
FamilyTreeDNA: Save up to $70 USD on Y-DNA and mtDNA test from FamilyTreeDNA … make REAL PROGRESS with your DNA and genealogy research! SHOP NOW
---
iDrive: Save 90% on iDrive Automatic Backup! FINALLY get an automated backup program for your #genealogy research! SET IT and FORGET IT!

SHOP NOW
---
MyHeritage: Save $30 USD during MyHeritage Christmas DNA Sale! Regularly $79 USD, now just $49 USD. Make REAL PROGRESS with your genealogy research PLUS get FREE SHIPPING when you order 2 or more kits! SHOP NOW
---
MyHeritage: Save Up to 50% on Mixtiles via MyHeritage! A WILD way to turn your family photos into shareable gifts! I just purchased a set for my 89-year old father-in law. His response? BEST GIFT EVER! SHOP NOW
---
MyHeritage: Save 50% on MyHeritage Gift Membership! Give to yourself or to a genealogy buddy – as low as

$99 USD

, regularly $199 USD! SHOP NOW
---
RootsMagic: Save 66% with the Special Holiday Bundle at RootsMagic! Get this amazing bundle including RootsMagic 7, Personal Historian 3, Getting the Most Out of RootsMagic 7, and Personal Historian: The Companion Guide (a $90 USD value) for

only $29.95 USD!

Plus, you will receive a free download of RootsMagic 8 when it is released. This means that you can reserve a future copy of Version 8 at today's lower Version 7 price! SHOP NOW
---
Vivid-Pix: Buy One, Give One Sale on Vivid-Pix RESTORE! Get a FREE TRIAL with up to 10 photo "fixes" and you'll be AMAZED! Works to improve documents too! SHOP NOW
©2020, copyright Thomas MacEntee. All rights reserved.