Today's Genealogy Bargains – Friday, June 7th, 2019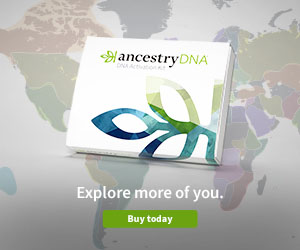 FEATURED Genealogy Bargain
NEW Genealogy Bargains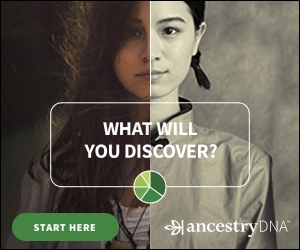 Genealogy Bargains Categories
Here is a quick directory of deals available at Genealogy Bargains (click each link to jump to that location):
DNA Test Kits & Education
Family Tree DNA: Save up to 25% on select DNA tests during the Family Tree DNA Father's Day Sale!  Family Tree DNA is holding an AMAZING Father's Day Sale with some GREAT prices on DNA test kits and bundles! "Father's Day is almost here, so get a jump on honoring Dad with extra savings on our best-selling DNA kits for ancestry. Give the gift of family discovery—because Dad genes never fade." Family Finder DNA test kit, regularly $79, now just $59! Y-DNA test kits starting at just $129! VIEW DETAILS
Living DNA:

Save $20

on Living DNA 3-in-1 DNA test kit during the Living DNA Father's Day Sale! Living DNA is the world's most advanced DNA test, offering twice the detail of other ancestry tests. If you have British or Irish heritage, this test is a MUST since it shows you the ethnic breakdown by region. VIEW DETAILS
MyHeritage DNA: Save 25% during the MyHeritage DNA Early Bird Father's Day Sale! Get MyHeritage DNA Ancestry-Only test kit for just $59 (regularly $79)! This is the same autosomal DNA test kit as AncestryDNA and other major DNA vendors! Plus FREE SHIPPING when you purchase 2 or more MyHeritage DNA kits! Sale valid through Monday, June 10th. VIEW DETAILS
MyHeritage: MyHeritage DNA Health + Ancestry test kit now available – just $199! This new test "offers new dimensions of genetic insight to enrich your life, enlighten you about your health, and help you make informed lifestyle choices. As a major expansion of our DNA product line, the MyHeritage DNA Health + Ancestry test includes dozens of personalized and easy-to-understand health reports. It also includes all of the features of the current MyHeritage DNA test. VIEW DETAILS
Books for Family Historians
Irish Roots:

Save 30%

on the new Summer 2019 digital issue of Irish Roots! Regularly $4.46 USD, now just $3.12 USD! Irish Roots magazine is the 'go to' genealogy and family history publication for tracing your Irish ancestors. To see the price in your local currency click on the drop down menu opposite the checkout tab. The price will revert to euros for checkout. The discount will show up on the 'PROCEED TO CHECKOUT' page. Sale valid through June 28th.  VIEW DETAILS
Amazon:

Save up to 45%

on Evidence Explained: History Sources from Artifacts to Cyberspace 3rd Edition Revised by Elizabeth Shown Mills! "Evidence Explained is the definitive guide to the citation and analysis of historical sources–a guide so thorough that it leaves nothing to chance. While countless websites now suggest ways to identify their offerings, few of those address the analytical needs of a researcher concerned with the nature and provenance of web material, whose numerous incarnations and transformations often affect the reliability of their content."
Click here to return to the directory
Educational Webinars and Online Courses
Click here to return to the directory
Genealogy Subscription Websites
Newspapers.com:

FREE ACCESS

to Newspapers.com Publishers Extra this weekend! In honor of the 75th anniversary of the D-Day Invasion, take advantage of free access to over 500 MILLION historical newspaper pages at Newspapers.com! Free access valid through Sunday, June 9th, 2019 at 11:59 pm EDT. VIEW DETAILS
Ancestry:

FREE ACCESS*

to over 250 Million military records at Ancestry! In honor of the 75th anniversary of the D-Day Invasion at Normandy on 6 June 1944, Ancestry is providing free access all weekend to its global military records collection! VIEW DETAILS
*Access to the records in the featured collections will be free until 9 Jun 2019 at 11:59 p.m. ET. After the free access period ends, you will only be able to view the records in the featured collection using a paid Ancestry World Explorer or All Access membership. 
Fold 3:

Save $20* on Annual Subscription at Fold3 and get access to over 545 MILLION military records, city directories and newspapers. And did you know that Fold3 has over 2 million pages (around 100 million names) in its City Directories Collection with records dating back to 1785? Regularly $79.95 USD, pay just $59.95 USD! – VIEW DETAILS
*Offer available for new Fold3 subscribers only and not for renewal of current subscriptions. Billed in one payment of $59.95 for a one-year subscription. Your subscription will automatically renew at list price after the introductory 1-year offer.
Newspapers.com: Right now, Newspapers.com has an amazing offer if you use historical newspapers as part of your genealogy research!  Get the Publishers Extra version of Newspapers.com for a six-month period for just $74.90 USD!  The regular price is $119.40 USD and this is a savings of 37% off that price  – VIEW DETAILS
Click here to return to the directory
Photo Organization and Preservation
Larsen Digital: Save up to 50% on Photo, Slide, and Film Scanning at Larsen Digital! Use promo codes  THOMAS10 or THOMAS15 along with the current sale at Larsen and get started on that scanning project! Example: Photos up to 8″ x 10″ scanned at 300 dpi . . . regularly $0.48 each, on sale for $0.30, and reduced to just $0.26 with promo code THOMAS15! Sale valid through Friday, June 7th.* VIEW DETAILS
*Lock in your sale price today! Just fill out the order form before the sale expires. Then you have two weeks to send us your order or bring it to our office.  If you don't know your exact quantity, take your best guess. We will adjust your final bill to reflect the actual amount that you send in.
Click here to return to the directory
Genealogy Software and Technology
Evidentia: Save 15% on ALL items at Evidentia! "Evidentia not only solves the problems facing the genealogy community, but also simplifies the process of analyzing evidence and creating proof arguments while still following the Genealogical Proof Standard (GPS)." There is also a FREE 14-day trial available! If you haven't checked out this amazing software, you really it owe to yourself and your genealogy research to do so! Regularly $29.99, you pay just $25.49. You must use HIDEFGEN at checkout!

Offer good on all books and guides as well!

 – VIEW DETAILS
Click here to return to the directory
Give the Gift of Family History
While this might be up to debate, we love to give family history gifts this time of year as well as receive them! So check out the products below for quick and easy gifts you can give to any member of the family!
Click here to return to the directory
©2019, copyright Thomas MacEntee.  All rights reserved.