Today's Genealogy Bargains – Friday, October 4th, 2019
FEATURED Genealogy Bargains
Genealogy Bargains Categories
Here is a quick directory of deals available at Genealogy Bargains (click each link to jump to that location):
DNA Test Kits & Education
23andMe:

Save up to $50

on 23andMe DNA kits with new TRAITS feature! Regularly $99, you can get the popular 23andMe Ancestry + Traits Service for just $79! And regularly $199, you can get the popular 23andMe Health + Ancestry Service for just $149! We know how busy it can get . . . you save info about the 23andMe sale and then POOF! You forget, the deadline passes, and you lose out on saving money. Click HERE to get started at 23andMe and don't forget, this sale MUST END on October 15th!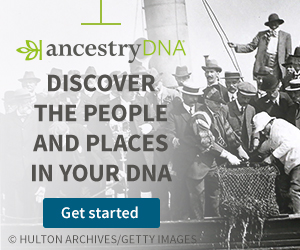 Ancestry DNA UK: Save 25% at AncestryDNA: See what your DNA reveals! Take an AncestryDNA® test to discover your ancestors' origins and start a journey into your past. Save during the AncestryDNA Autumn Sale! Regularly £79, you pay just £59! Sale valid through October 6th. VIEW DETAILS
MyHeritage DNA: MyHeritage DNA Autumn Sale!

Get the

MyHeritage DNA Ancestry-Only test kit for just $59! This is the same autosomal DNA test kit as AncestryDNA and other major DNA vendors!  BONUS! Purchase 2 or more MyHeritage DNA test kits and standard shipping is FREE! Sale valid through October 6th. VIEW DETAILS
DNA Boot Camp: Save 30% on What's New in DNA Tools digital download! Regularly $25.99, now just $19.99 and you'll get access to 3 hours of recorded webinars, and over 10 pages of handouts! "There is an explosion of DNA tools for delving into your DNA test results.  In the first webinar of the What's New in DNA Tools Boot Camp, we'll review many tools so you can be informed about what's available.  The second webinar examines one tool, DNA Painter's Profile tool, in detail.  Profile lets you paint your chromosomes with your ancestors.  Not only is this fun (and highly addicting), but it can help in genealogical research!" Sale valid through October 31st. VIEW DETAILS
Click here to return to the directory
Books for Family Historians
LAST DAY!

FREE DOWNLOAD

The Genealogy Do-Over Workbook! Get this best-selling book for FREE between now and Friday, October 4th and celebrate National Family History Month! The Genealogy Do-Over Workbook (a $2.99 USD value) is available for FREE! Click HERE for your Amazon Kindle copy NOW before it's too late!
For those who want the PDF version, click HERE to purchase using promo code FAMHIST . . . scroll down to the lower left and enter the code. Checkout and your total will be $0.00 for the PDF download! IMPORTANT! Once "purchased" you'll receive an email. Click VIEW PURCHASE ONLINE, then scroll down and you'll find a DOWNLOAD link!
Amazon: Save up to 52%

on the NEW EDITION of

 The Family Tree Problem Solver: Tried-and-True Tactics for Tracing Elusive Ancestors by Marsha Hoffman Rising! "Has your family history research hit a brick wall? This revised edition of The Family Tree Problem Solver includes new guides to record hints from genealogy websites and DNA results from companies like AncestryDNA. Plus, you'll find a glossary of genealogy terms and case studies that put the book's advice into action."  Print version, regularly $24.99, now just $17.34– VIEW DETAILS
Amazon:

Save 78%

on Organize Your Genealogy: Strategies and Solutions for Every Researcher – "This best-selling book by Drew Smith is perfect for your genealogy New Year's resolutions of finally getting organized! "Stop struggling to manage all your genealogy facts, files, and data–make a plan of attack to maximize your progress. Organize Your Genealogy will show you how to use tried-and-true methods and the latest tech tools and genealogy software to organize your research plan, workspace, and family-history finds. In this book, you'll learn how to organize your time and resources, including how to set goals and objectives, determine workable research questions, sort paper and digital documents, keep track of physical and online correspondence, prepare for a research trip, and follow a skill-building plan. With this comprehensive guide, you'll make the most of your research time and energy and put yourself on a road to genealogy success." Regularly $26.99 USD for the print version, Amazon Kindle version just $5.99 USD! – VIEW DETAILS
Click here to return to the directory
Educational Webinars and Online Courses
Research, Write, Connect: Save 40% on ALL COURSES during Family History Month! October is National Family History Month and are you ready to learn more about how to create lasting tributes of your ancestors? Up your genealogy and family history game with DNA and writing courses from family history expert Lisa Alzo and Research, Write, Connect!
Remember you MUST use promo code OCTOBER40 at checkout to claim your 40% savings! VIEW DETAILS
Click here to return to the directory
Genealogy Subscription Websites
Fold3:

Save 25%

on a Fold3 Membership* and get access to military records, city directories and newspapers. Did you know that Fold3 has over 2 million pages (around 100 million names), in its City Directories Collection with records dating back to 1785. Before phone books came into the picture, many cities and towns published directories of their residents. Regularly $79.95 USD, pay just $59.95 USD! VIEW DETAILS
*Offer available for new Fold3 subscribers only and not for renewal of current subscriptions. Billed in one payment of $59.95 for a one-year subscription. Your subscription will automatically renew at list price after the introductory 1-year offer.
Newspapers.com: Right now, Newspapers.com has an amazing offer if you use historical newspapers as part of your genealogy research!  Get the Publishers Extra version of Newspapers.com for a six-month period for just $74.90!  The regular price is $119.40 and this is a savings of 37% off that price  – VIEW DETAILS
Click here to return to the directory
Photo Organization and Preservation
PRICE DROP!

Amazon:

Save up to 67% on

Picture Keeper USB Photo Backup! Worried about backing up all those scanned images? No worries with the Picture Keeper system which actually scans and FINDS your photos!
EASE OF USE – Once the software is installed – Just click "Start Backup," and relax as it does the work for you!
ON-THE-GO – Anywhere, anytime. No internet required, bring it on your next remote island vacation!
WORKS ON MOST COMPUTERS – MAC and PC Compatible with Free Software included!
USE ON MULTIPLE COMPUTERS – Software knows where each backup left off. Once one Picture Keeper fills up, just plug in the second one and it continues where the other left off!
PEACE OF MIND – Set backup reminders to keep all of your memories safe and secure
Also available in 4GB, 16GB, and 32GB sizes. Right now, the 8GB size, regularly $59.99, now just $24.99 plus save an extra $5 with special coupon – final price is $19.99! For the 16GB size, regularly $99.99, now just $69.99 plus save an extra $15 with special coupon – final price is $44.99!
Click here to return to the directory
Genealogy Software and Technology
Amazon: Save 25% on Western Digital 2TB Black My Passport Portable External Hard Drive USB 3.0. "The My Passport portable hard drive is trusted to store the massive amounts of photos, videos and music you love. Available in an array of vibrant, fun colors, the sleek style fits comfortably in the palm of your hand, so you can easily take your treasured content everywhere you go." Regularly $79.99 USD, now just $59.99 USD! This is sold and shipped DIRECTLY by Amazon – no shady third-party sellers! VIEW DETAILS
Evidentia: Save 15% on ALL items at Evidentia! "Evidentia not only solves the problems facing the genealogy community, but also simplifies the process of analyzing evidence and creating proof arguments while still following the Genealogical Proof Standard (GPS)." There is also a FREE 14-day trial available! If you haven't checked out this amazing software, you really it owe to yourself and your genealogy research to do so! Regularly $29.99, you pay just $25.49. You must use HIDEFGEN at checkout!

Offer good on all books and guides as well!

 – VIEW DETAILS
iDrive:

90% off

iDrive automatic online backup! Regularly $69.50 per year, you get the first year of 2TB cloud storage for just

$6.95

! Once you've scanned all those family photos, you need to have a data backup right? This is a "set it and forget it" program like Carbonite but much better: you can backup your mobile devices and even Facebook images! VIEW DETAILS
Click here to return to the directory
©2019, copyright Thomas MacEntee.  All rights reserved.