Today's Genealogy Bargains – Monday, July 1st, 2019
FEATURED Genealogy Bargain
NEW!

Legacy Family Tree Webinars:

FREE WEBINAR

Evaluating Shared DNA presented by Paul Woodbury, Wednesday, July 3, 2019, 2:00 pm Eastern / 1:00 pm Central / 12:00 pm Mountain / 11:00 am Pacific. "DNA testing companies estimate the nature of your genetic relationships to DNA cousins based on the types, amounts and locations of shared DNA. Nevertheless, their estimations are typically quite broad. In this webinar, learn to analyze the DNA you share with genetic cousins to better estimate the nature of your relationships. Explore probabilities of relationship based on total shared DNA, number of segments, types of shared DNA, and relationships to multiple individuals. Navigate genetically equivalent relationships. Interpret shared DNA within the context of other available evidence. Evaluate proposed relationships and guard against the possibility of misattributed parentage or half relationships. Learn to better utilize genetic evidence in the exploration of family trees." VIEW DETAILS
Genealogy Bargains Categories
Here is a quick directory of deals available at Genealogy Bargains (click each link to jump to that location):
DNA Test Kits & Education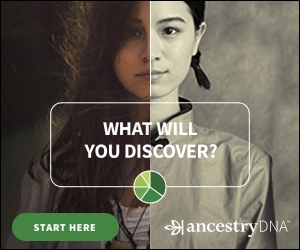 MyHeritage: MyHeritage DNA Health + Ancestry test kit now available – just $199! This new test "offers new dimensions of genetic insight to enrich your life, enlighten you about your health, and help you make informed lifestyle choices. As a major expansion of our DNA product line, the MyHeritage DNA Health + Ancestry test includes dozens of personalized and easy-to-understand health reports. It also includes all of the features of the current MyHeritage DNA test. VIEW DETAILS
Books for Family Historians
Amazon:

Save 35%

on The Family Tree Guide to DNA Testing and Genetic Genealogy by Blaine T. Bettinger! In this updated 2nd edition, "Discover the answers to your family history mysteries using the most-cutting edge tool available to genealogists. This plain-English guide, newly revised and expanded, is a one-stop resource on genetic genealogy for family historians. Inside, you'll learn what DNA tests are available, with up-to-date pros and cons of the major testing companies (including AncestryDNA) and advice on choosing the right test to answer your specific questions. For those who've already taken DNA tests, this guide will demystify and explain how to interpret DNA test results, including how to understand ethnicity estimates and haplogroup designations, navigate suggested cousin matches, and use third-party tools like GEDmatch to further analyze data." Regularly $29.99, pre-order now for delivery on July 30th and you pay just $20.22! VIEW DETAILS
Click here to return to the directory
Educational Webinars and Online Courses
Legacy Family Tree Webinars:

FREE WEBINAR

Remedies for Copy & Paste Genealogy presented by Cyndi Ingle, Tuesday, July 2, 2019, 10:00 pm Eastern / 9:00 pm Central / 8:00 pm Mountain / 6:00 pm Pacific. "Family trees and the information they contain are easily copied and re-published by others online. This means errors are duplicated many times over. We will discuss solutions for dealing with these issues." VIEW DETAILS
Click here to return to the directory
Genealogy Subscription Websites
Newspapers.com: Right now, Newspapers.com has an amazing offer if you use historical newspapers as part of your genealogy research!  Get the Publishers Extra version of Newspapers.com for a six-month period for just $74.90 USD!  The regular price is $119.40 USD and this is a savings of 37% off that price  – VIEW DETAILS
Click here to return to the directory
Photo Organization and Preservation
Vivid-Pix:

Save 20%

on Vivid-Pix RESTORE! Restore scanned prints, slides, documents, and digital camera images in seconds. You can even use Vivid-Pix RESTORE in scanned documents . . . Allen County Public Library does! UPDATE: now you can add your own METADATA to images and documents using Vivid-Pix RESTORE! Sale valid through July 15th, 2019.  Use promo code 3GBargainsSAVEBT at checkout – VIEW DETAILS 
Click here to return to the directory
Genealogy Software and Technology
Click here to return to the directory
Give the Gift of Family History
While this might be up to debate, we love to give family history gifts this time of year as well as receive them! So check out the products below for quick and easy gifts you can give to any member of the family!
Celebrate DNA: Special Summer Edition Celebrate DNA T-Shirt showing off your DNA ethnicity . . . less than $22 when you use code JULY10 at checkout! Enter your ethnicity results from a recent DNA test, then select White or Navy and you'll have a special customized Celebrate DNA t-shirt in no time! VIEW DETAILS
Click here to return to the directory
©2019, copyright Thomas MacEntee.  All rights reserved.