Today's Genealogy Bargains – Monday, June 24th, 2019
FEATURED Genealogy Bargain
NEW!

Legacy Family Tree Webinars:

FREE WEBINAR

A Month's Worth of Must-Have Tech Tips To Start Using Today presented by Gena Philibert-Ortega, Friday, June 28, 2019, 2:00 pm Eastern / 1:00 pm Central / 12:00 pm Mountain / 11:00 am Pacific. "What technology tips can help you with your genealogy research? Make a goal this month to try a new technology tip each day and this webinar will help you! We'll look at tips to help you enhance your email, use shortcuts, conduct better searches, and use your cell phone for genealogy. When we are done, you'll be able to do more with less time and learn tools that will help you in your research and personal life." VIEW DETAILS
Genealogy Bargains Categories
Here is a quick directory of deals available at Genealogy Bargains (click each link to jump to that location):
DNA Test Kits & Education
DNA Boot Camp: Save 50% on all DNA Boot Camp Digital Downloads with DNA expert Mary Eberle produced by Thomas MacEntee! Save 50% off the regular price of $25.99 USD . . . you pay just $12.99 USD each! Use promo code SUMMER19 at checkout to claim your savings! Titles include:
Each digital download consists of two 90-minute recorded webinars, with Q&A periods, PLUS extensive handouts. Sale valid through June 30th, 2019. VIEW DETAILS

And don't forget this sale also applies to the new DNA Boot Camp Bundle! You get all 9 recorded DNA Boot Camps from 2017 through 2019 including the updated Getting Started with DNA and Genealogy boot camp materials! Regularly $199.99 USD, you pay just $99.99 USD with promo code SUMMER19 – click HERE to save! Sale valid through June 30th, 2019.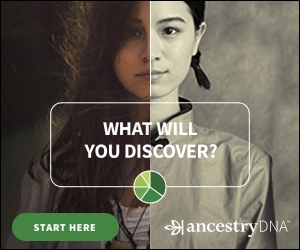 MyHeritage DNA:

Save

during the MyHeritage DNA Summer Sale! Get MyHeritage DNA Ancestry-Only test kit for just $59! This is the same autosomal DNA test kit as AncestryDNA and other major DNA vendors! BONUS! Get FREE SHIPPING when you purchase two (2) or more MyHeritage DNA Ancestry-Only test kits! Sale valid through Sunday, June 30th. VIEW DETAILS
MyHeritage: MyHeritage DNA Health + Ancestry test kit now available – just $199! This new test "offers new dimensions of genetic insight to enrich your life, enlighten you about your health, and help you make informed lifestyle choices. As a major expansion of our DNA product line, the MyHeritage DNA Health + Ancestry test includes dozens of personalized and easy-to-understand health reports. It also includes all of the features of the current MyHeritage DNA test. VIEW DETAILS
Books for Family Historians
Click here to return to the directory
Educational Webinars and Online Courses
Legacy Family Tree Webinars:

FREE WEBINAR

Hidden content treasures you might have missed at MyHeritage presented by Mike Mansfield, MyHeritage Webinars, Tuesday, June 25, 2019, 2:00 pm Eastern / 1:00 pm Central / 12:00 pm Mountain / 11:00 am Pacific. "Learn about fascinating collections of records you may have missed, which may be hiding your ancestors." VIEW DETAILS
Click here to return to the directory
Family History Writing Tools
FINAL DAY! Save 40% on ALL COURSES at Research, Write, Connect with Family History Expert Lisa Alzo . . . use promo code JUNE40 at checkout to claim your 40% savings!
Sale valid through Monday, June 24th, 2019.
Click here to return to the directory
Genealogy Subscription Websites
Fold 3:

Save $20* on Annual Subscription at Fold3 and get access to over 545 MILLION military records, city directories and newspapers. And did you know that Fold3 has over 2 million pages (around 100 million names) in its City Directories Collection with records dating back to 1785? Regularly $79.95 USD, pay just $59.95 USD! – VIEW DETAILS
*Offer available for new Fold3 subscribers only and not for renewal of current subscriptions. Billed in one payment of $59.95 for a one-year subscription. Your subscription will automatically renew at list price after the introductory 1-year offer.
Newspapers.com: Right now, Newspapers.com has an amazing offer if you use historical newspapers as part of your genealogy research!  Get the Publishers Extra version of Newspapers.com for a six-month period for just $74.90 USD!  The regular price is $119.40 USD and this is a savings of 37% off that price  – VIEW DETAILS
Click here to return to the directory
Photo Organization and Preservation
Vivid-Pix:

Save 20%

on Vivid-Pix RESTORE! Restore scanned prints, slides, documents, and digital camera images in seconds. You can even use Vivid-Pix RESTORE in scanned documents . . . Allen County Public Library does! UPDATE: now you can add your own METADATA to images and documents using Vivid-Pix RESTORE! Sale valid through July 15th, 2019.  Use promo code 3GBargainsSAVEBT at checkout – VIEW DETAILS 
Click here to return to the directory
Genealogy Software and Technology
Click here to return to the directory
Give the Gift of Family History
While this might be up to debate, we love to give family history gifts this time of year as well as receive them! So check out the products below for quick and easy gifts you can give to any member of the family!
Celebrate DNA: Special Summer Edition Celebrate DNA T-Shirt showing off your DNA ethnicity . . . less than $22 when you use code JULY10 at checkout! Enter your ethnicity results from a recent DNA test, then select White or Navy and you'll have a special customized Celebrate DNA t-shirt in no time! VIEW DETAILS
Click here to return to the directory
©2019, copyright Thomas MacEntee.  All rights reserved.