Today's Genealogy Bargains – Monday, May 6th, 2019
FEATURED Genealogy Bargain
NEW!

MyHeritage: FREE ACCESS to all Danish and Finnish historical records on MyHeritage for the next week, until May 12, 2019!  VIEW DETAILS
NEW Genealogy Bargains
NEW!

Amazon: Save 61% on DYMO Label Maker! "Hand-held and sleek, with battery powered portability, the DYMO LetraTag LT-100H Label Maker is the perfect way to keep your home organized." Regularly $45.89 USD, now just $17.88 USD! VIEW DETAILS
NEW!

Amazon:

Gaylord Archival My Family History Kit just $59.99 plus FREE SHIPPING! "You are the guardian of your family history – document and preserve it with this museum-quality kit from Gaylord Archival. My Family History Kit includes: instructional brochure, 12-generation pedigree chart, black All-Stabilo pencil, one 10 1/4H x 12 1/4W x 5″D document box with self-adhesive label holder, five 8 x 10″ envelopes, 10 clear archival polyester 8 1/2 x 11″ sleeves, 10 letter-size file folders, 20 PermaPlus labels (1 x 3″), and 1 pair disposable white cotton gloves to prevent fingerprints and oil transfer. Document box, file folders and envelopes are acid-free, lignin-free and buffered to resist acid migration." VIEW DETAILS
Genealogy Bargains Categories
Here is a quick directory of deals available at Genealogy Bargains (click each link to jump to that location):
DNA Test Kits & Education
AncestryDNA:

Save 40%

during the AncestryDNA Mother's Day Sale! Regularly $99, now just $59! BONUS . . . Parent Pack Special: purchase 2 AncestryDNA kits and get FREE STANDARD SHIPPING! Sale valid through Monday, May 13th. VIEW DETAILS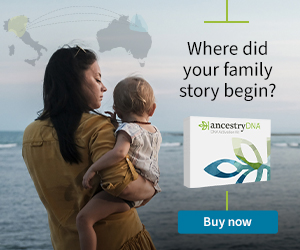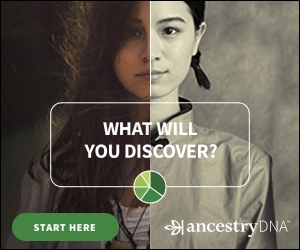 Living DNA:

Save $20

on Living DNA during the Living DNA Mother's Day Sale! Living DNA is the world's most advanced DNA test, offering twice the detail of other ancestry tests. If you have British or Irish heritage, this test is a MUST since it shows you the ethnic breakdown by region. Regularly $99, now just $79! VIEW DETAILS
Books for Family Historians
Irish Roots Magazine:

Save 34%

on Irish Roots Magazine Back Issue Digital Bundle! Get tracing your Irish ancestors with this incredible special offer back issue bundle of 6 issues of Irish Roots magazine for the price of 4! Irish Roots magazine is the 'go to' publication for everyone embarking on their Irish ancestral research journey from the budding family history enthusiast to the more experienced genealogical researcher. VIEW DETAILS
Click here to return to the directory
Educational Webinars and Online Courses
Click here to return to the directory
Genealogy Subscription Websites
Newspapers.com: Right now, Newspapers.com has an amazing offer if you use historical newspapers as part of your genealogy research!  Get the Publishers Extra version of Newspapers.com for a six-month period for just $74.90 USD!  The regular price is $119.40 USD and this is a savings of 37% off that price  – VIEW DETAILS
MyHeritage: Having trouble finding success with your genealogy research? Ready to make the leap to MyHeritage? Here's a way to try MyHeritage Complete for FREE and also save 50%! – VIEW DETAILS
Click here to return to the directory
Photo Organization and Preservation
Vivid-Pix:

Save 20%

on Vivid-Pix RESTORE! Restore scanned prints, slides, documents, and digital camera images in seconds. You can even use Vivid-Pix RESTORE in scanned documents . . . Allen County Public Library does! UPDATE: now you can add your own METADATA to images and documents using Vivid-Pix RESTORE! Sale valid through May 31st, 2019.  Use promo code 3GBargainsSAVEBT at checkout – VIEW DETAILS 
Click here to return to the directory
Genealogy Software and Technology
NEW!

Amazon: Save 25% on Seagate Expansion 4TB Portable External Hard Drive USB 3.0. "Windows computers tend to perform better when their internal drives aren't filled to the brim. That's why Expansion Portable is here to help. Transfer, backup, and give that desktop or laptop the space it needs. Fast USB connectivity and drag-and-drop style make the whole process a no brainer." – Regularly $119.99 USD, now just $89.99 USD – VIEW DETAILS
Evidentia: Save 15% on ALL items at Evidentia! "Evidentia not only solves the problems facing the genealogy community, but also simplifies the process of analyzing evidence and creating proof arguments while still following the Genealogical Proof Standard (GPS)." There is also a FREE 14-day trial available! If you haven't checked out this amazing software, you really it owe to yourself and your genealogy research to do so! Regularly $29.99, you pay just $25.49. You must use HIDEFGEN at checkout!

Offer good on all books and guides as well!

 – VIEW DETAILS
Click here to return to the directory
Give the Gift of Family History
While this might be up to debate, we love to give family history gifts this time of year as well as receive them! So check out the products below for quick and easy gifts you can give to any member of the family!
Click here to return to the directory
©2019, copyright Thomas MacEntee.  All rights reserved.