Today's Genealogy Bargains – Monday, November 11th, 2019
FEATURED Genealogy Bargain
NEW!

MyHeritage DNA: Huge savings during the MyHeritage DNA Early Thanksgiving DNA Sale!

Get the

MyHeritage DNA Ancestry-Only test kit for just $49! This is the same autosomal DNA test kit as AncestryDNA and other major DNA vendors!  BONUS! Purchase 2 or more MyHeritage DNA test kits and standard shipping is FREE! Sale expires Monday, November 18th. VIEW DETAILS
FREE ACCESS to Military Records!
LAST CHANCE! This weekend, several major genealogy sites such as Ancestry and FindMyPast will offer FREE ACCESS to military records to commemorate Remembrance Day and Veterans Day.
Ancestry: "In honor of Veterans Day, Ancestry, the global leader in family history and consumer genomics, is allowing everyone to search their archive of US military records for FREE from November 8 at 7:00PM EST through November 17 at 11:59PM EST. With more than 260 million US military records, people will be able to find inspiring stories about family members who served our country from draft cards, enlistment records, soldier pension indexes and more, covering almost 400 years of American history." VIEW DETAILS
Findmypast: "Leading British & Irish family history website, Findmypast, will be providing free access to their entire collection of military and civilian records ahead of Veterans Day 2019. From 12pm (GMT) Friday November 8th, until 12pm (GMT) Monday November 11th, all records on Findmypast excluding newspapers, electoral rolls and the Periodical Source Index, will be completely free to search and explore. This includes more than 85 million military records covering the Armed Forces of the United States, Canada, Great Britain, Australia, New Zealand and Ireland." VIEW DETAILS
NEW Genealogy Bargains
NEW!

Amazon: TODAY ONLY! Veterans and Active Military Save $40 on a year of Amazon Prime! Regularly $119, qualified veterans and active military can get Amazon Prime for just $79! EXPIRES TODAY November 11th! VIEW DETAILS
NEW!

DNA Boot Camp: Save 30% on Interpreting Your AncestryDNA Results digital download featuring DNA expert Mary Eberle! Now through November 30th, you can save 30% on the digital download of this amazing online DNA Boot Camp! Regularly $25.99, for just $19.99 you'll get access to 3 hours of recorded webinars, and over 10 pages of handouts! VIEW DETAILS
Genealogy Bargains Categories
Here is a quick directory of deals available at Genealogy Bargains (click each link to jump to that location):
DNA Test Kits & Education
The holiday sales have started early this year for all of the major DNA testing companies!  Some of these deals are TIME SENSITIVE such as "one-day-only" or "flash" sales so don't delay!
23andMe
AncestryDNA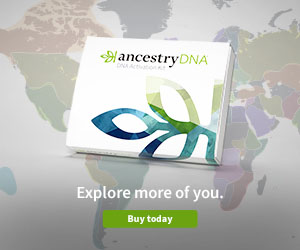 AncestryDNA: Save 40% on AncestryDNA test kit! Stock up now for the holidays and get AncestryDNA for just $59 USD!

BONUS!

Also save 20% on Ancestry Gift Subscriptions! VIEW DETAILS
*NOTE: Sale valid through Wednesday, November 27th. Shipping and sales tax NOT INCLUDED.  AncestryHealth® not available in NY, NJ and RI.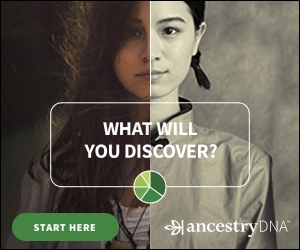 AncestryDNA Canada: Save during the AncestryDNA Canada Holiday Sale! Our friends to the North can get in on the AncestryDNA Holiday Sale as well with a savings of $40 CAD! Regularly $129 CAD, you pay just $89 CAD**! Stock up now for the holidays! VIEW DETAILS
**NOTE: Sale valid through Wednesday, November 27th. Shipping and sales tax NOT INCLUDED.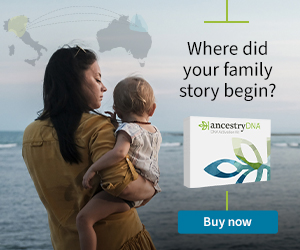 AncestryDNA Australia: Save $20 AUD! Regularly $129 AUD, now just $109 AUD!

BONUS!

Also save 20% on Ancestry Gift Subscriptions! Sale valid through Monday, November 25th. VIEW DETAILS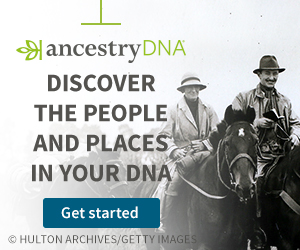 AncestryDNA UK: Save 25%! Now just £59 GBP! Sale valid through Sunday, November 24th. VIEW DETAILS
FamilyTreeDNA
NEW! FamilyTreeDNA: Save up to 40% during Thanksgiving Sale at FamilyTreeDNA! FamilyTreeDNA is holding its Thanksgiving Sale starting today through November 28th. "Give thanks. Thank those who came before you by learning more about your ancestry."
The Family Finder DNA test kit, similar to the autosomal DNA test kit at 23andMe and AncestryDNA, regularly $79, is now just $59! VIEW DETAILS
Y-37 Test *: Tests 37 markers. Explore your paternal lineage and follow the ancient migration path of your male ancestors. Regularly $169,

now just $99!

Save $70! VIEW DETAILS
Y-111 Test *: Tests 111 markers. Explore your paternal lineage and follow the ancient migration path of your male ancestors. Regularly $359,

now just $199!

Save $160! VIEW DETAILS
Big Y-700 Test *: Big Y-700, intended for expert users, is our most advanced Y-DNA test. It analyzes ~100k SNPs and up to 700 short tandem repeats (STRs). Regularly $649, now just $399! Save $250! VIEW DETAILS
* Denotes male specific tests
mt Full Sequence: Examines all regions of mitochondrial DNA, identifies basic haplogroup and migration paths and you get more refined results for genealogical purposes. Regularly $199,

now just $139!

Save $60! VIEW DETAILS
Family Finder + Y-37 Test Bundle*: Male-specific bundle includes Family Finder plus our Y-chromosome test that analyzes 37 markers.  Regularly $248,

now just $149!

Save $99! VIEW DETAILS
Family Finder + mtFull Sequence: Family Finder plus a Full Mitochondrial Sequence – For both males and females, our mtDNA test traces your maternal line. Regularly $278, now just $189! Save $89! VIEW DETAILS
Family Finder + Y-111 + mtFull Sequence Test Bundle*: This Comprehensive Genome (male-specific) test includes Family Finder, our 111 marker Y-DNA test plus a Full Mitochondrial Sequence, the most comprehensive and highest resolution mtDNA test available. Results identify the ethnic and geographic origins of your paternal and maternal lines.  Regularly $637,

now just $379!

Save $258! VIEW DETAILS
* Denotes male specific tests
And if you've already tested with FamilyTreeDNA and would like to upgrade your test, click HERE to see the various discounts on upgrades.
Living DNA
LivingDNA: Save up to 30% plus get FREE SHIPPING during the Living DNA Holiday Sale!
The Living DNA Starter Kit, covering ancestry and wellbeing, is the best value DNA kit available – just $49! "It's perfectly designed for people who've heard about DNA testing but are unsure about which type of test to take. It gives you a taster experience of what is possible through a simple mouth swab." Priced at just $49! VIEW DETAILS
The Living DNA Ancestry Kit is the most advanced in the industry, working to determine not only the countries where your ancestry is from, but where possible, sub-regions within those countries. The result is a DNA kit with the greatest number of DNA-based regions and sub-regions compared to any other in the industry. Regularly $99, now just $79! VIEW DETAILS
The Living DNA Wellbeing Kit is designed to cast a light on your unique genetics that play a part in your quality of life. Discover how through understanding your body, it may be possible to improve the quality of your life by making adjustments to your diet and exercise. Living DNA provides you with reports that indicate how your body responds to lifestyle-related analysis. Regularly $129, now priced at just $99! VIEW DETAILS
The Living DNA Ancestry + Wellbeing Kit for the most complete experience. The combined wellbeing and ancestry DNA kit brings all the benefits of the two detailed products together at an incredible price. The combined DNA kit will enable you to understand the full depths of your ancestry, bringing family stories to life and unlocking goal-orientated wellbeing reports that help you to live a greater quality of life. Regularly $179, now priced at just $149! VIEW DETAILS
Click here to return to the directory
Books for Family Historians
PRICE DROP!

Amazon: Save 45% on The Family Tree Historical Atlas of Germany by James M. Beidler. "Delve into your German heritage! With these 100-plus full-color maps, you can view German border changes throughout the centuries, allowing you to find your German hometown and records of your German ancestors." Print version regularly $34.99, now just $19.28! VIEW DETAILS
Click here to return to the directory
Educational Webinars and Online Courses
Legacy Family Tree Webinars:

FREE WEBINAR

Soldier's Homes (1865-1930) Caring for our veterans presented by Rick Sayre, CG, CGL, FUGA, Wednesday, November 13th, 8:00 pm Eastern / 7:00 pm Central / 6:00 pm Mountain / 5:00 pm Pacific. "The National Home for Volunteer Soldiers, was established by an act of Congress in 1865. The purpose of the home system (initially called the National Asylum) was to provide for the care of the large number of wounded and disabled veterans from the Civil War. Records of kinship and other treasures abound in these records—over 400,000 records of these veterans are online free of charge. The home from its inception was intended to be more like a planned community of today, than a simple home and hospital. Extensive amenities and vocational training were provided. The largest branch and showpiece of the system was the Central Branch at Dayton, Ohio, Eventually growing to 11 homes or branches spread across the country, they are today Veteran's Administration hospitals. Additionally, state and Confederate homes were established. We will also discuss strategies for finding these records." Click HERE to register for FREE – via Legacy Family Tree Webinars 
Click here to return to the directory
Genealogy Subscription Websites
Fold3:

Save 25%

on a Fold3 Membership* and get access to military records, city directories and newspapers. Did you know that Fold3 has over 2 million pages (around 100 million names), in its City Directories Collection with records dating back to 1785. Before phone books came into the picture, many cities and towns published directories of their residents. Regularly $79.95 USD, pay just $59.95 USD! VIEW DETAILS
*Offer available for new Fold3 subscribers only and not for renewal of current subscriptions. Billed in one payment of $59.95 for a one-year subscription. Your subscription will automatically renew at list price after the introductory 1-year offer.
Click here to return to the directory
Photo Organization and Preservation
PRICE DROP!

Amazon:

Save up to 67% on

Picture Keeper USB Photo Backup! Worried about backing up all those scanned images? No worries with the Picture Keeper system which actually scans and FINDS your photos!
EASE OF USE – Once the software is installed – Just click "Start Backup," and relax as it does the work for you!
ON-THE-GO – Anywhere, anytime. No internet required, bring it on your next remote island vacation!
WORKS ON MOST COMPUTERS – MAC and PC Compatible with Free Software included!
USE ON MULTIPLE COMPUTERS – Software knows where each backup left off. Once one Picture Keeper fills up, just plug in the second one and it continues where the other left off!
PEACE OF MIND – Set backup reminders to keep all of your memories safe and secure
Also available in 4GB, 16GB, and 32GB sizes. Right now, the 8GB size, regularly $59.99, now just $29.99! BONUS: Save $5.00 with coupon at Amazon!  VIEW DETAILS
Click here to return to the directory
Genealogy Software and Technology
iDrive:

Save 95%

on iDrive 5TB automatic backup! Regularly $69.50 per year, you get the first year of 5TB cloud storage for just

$3.48

! Once you've scanned all those family photos, you need to have a data backup right? This is a "set it and forget it" program like Carbonite but much better: you can backup your mobile devices and even Facebook images!  VIEW DETAILS
Click here to return to the directory
Give the Gift of Family History
While this might be up to debate, we love to give family history gifts this time of year as well as receive them! So check out the products below for quick and easy gifts you can give to any member of the family!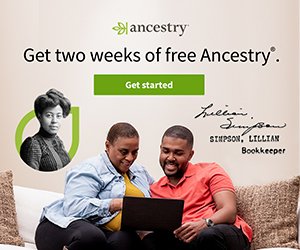 Ancestry: Save 20% on Ancestry gift memberships and get Table Topics – a game of family-themed questions that'll have people talking, laughing, and listening – for FREE! Sale valid through November 27th. VIEW DETAILS
Click here to return to the directory
©2019, copyright Thomas MacEntee.  All rights reserved.