Today's Genealogy Bargains – Sunday, April 28th, 2019
FEATURED Genealogy Bargain
NEW!

Legacy Family Tree Webinars:

FREE WEBINAR

English Parish Records: More than Hatch, Match and Dispatch presented by Helen V. Smith, Tuesday, April 30th, 9:00 pm Eastern / 8:00 pm Central / 7:00 pm Mountain / 6:00 pm Pacific. "Most people are familiar with the baptism, marriage and burial records found in parish records but there are many other wonderful parish records that can help in genealogical research. These include Vestry minutes, Churchwarden Accounts, settlement certificates, examinations and removal orders, Parish poor rates and relief distribution, Parish apprenticeships, parish payments for work done within the parish, parish assisted emigration and more." Click HERE to register for FREE – via Legacy Family Tree Webinars
Genealogy Bargains Categories
Here is a quick directory of deals available at Genealogy Bargains (click each link to jump to that location):
DNA Test Kits & Education
ENDS TODAY!

MyHeritage DNA: Save during MyHeritage DNA Day Sale! Pay just $59 PLUS get FREE SHIPPING when you purchase two or more DNA kits! Sale valid through April 28th! – VIEW DETAILS
ENDS TODAY!

Living DNA:

Save up to 40%

on Living DNA during National DNA Day Sale! Living DNA is the world's most advanced DNA test, offering twice the detail of other ancestry tests. If you have British or Irish heritage, this test is a MUST since it shows you the ethnic breakdown by region. VIEW DETAILS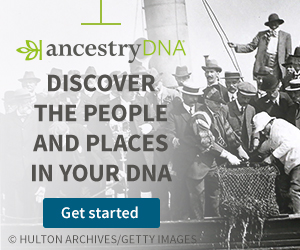 ENDS TODAY!

Ancestry: Save 25% at AncestryDNA UK! See what your DNA reveals! Take an AncestryDNA® test to discover your ancestors' origins and start a journey into your past. Save during the AncestryDNA DNA Day Sale: regularly £79, you pay just £59! Sale valid through April 28th. VIEW DETAILS
Books for Family Historians
Amazon: Save 36% on The Family Tree Historical Atlas of Germany by James M. Beidler. "Delve into your German heritage! With these 100-plus full-color maps, you can view German border changes throughout the centuries, allowing you to find your German hometown and records of your German ancestors." Pre-order today and SAVE! – VIEW DETAILS
Click here to return to the directory
Educational Webinars and Online Courses
Click here to return to the directory
Genealogy Subscription Websites
MyHeritage: Having trouble finding success with your genealogy research? Ready to make the leap to MyHeritage? Here's a way to try MyHeritage Complete for FREE and also save 50%! – VIEW DETAILS
Newspapers.com: Right now, Newspapers.com has an amazing offer if you use historical newspapers as part of your genealogy research!  Get the Publishers Extra version of Newspapers.com for a six-month period for just $74.90 USD!  The regular price is $119.40 USD and this is a savings of 37% off that price  – VIEW DETAILS
Fold 3:

Save $30 on Annual Subscription at Fold3 and get access to military records, city directories and newspapers. Did you know that Fold3 has over 2 million pages (around 100 million names), in its City Directories Collection with records dating back to 1785. Before phone books came into the picture, many cities and towns published directories of their residents. Regularly $79.95 USD, pay just $49.95 USD! – VIEW DETAILS
Click here to return to the directory
Photo Organization and Preservation
Click here to return to the directory
Genealogy Software and Technology
Evidentia: Save 15% on ALL items at Evidentia! "Evidentia not only solves the problems facing the genealogy community, but also simplifies the process of analyzing evidence and creating proof arguments while still following the Genealogical Proof Standard (GPS)." There is also a FREE 14-day trial available! If you haven't checked out this amazing software, you really it owe to yourself and your genealogy research to do so! Regularly $29.99, you pay just $25.49. You must use HIDEFGEN at checkout!

Offer good on all books and guides as well!

 – VIEW DETAILS
Click here to return to the directory
Give the Gift of Family History
While this might be up to debate, we love to give family history gifts this time of year as well as receive them! So check out the products below for quick and easy gifts you can give to any member of the family!
Click here to return to the directory
©2019, copyright Thomas MacEntee.  All rights reserved.