Today's Genealogy Bargains – Thursday, August 8th, 2019
FEATURED Genealogy Bargain
NEW Genealogy Bargains
NEW!

British Newspaper Archive: Save 30% on British Newspaper Archive during the BNA Summer Sale! "Get unlimited access to the British Newspaper Archive. There are hundreds of millions of incredible stories just waiting to be found. Get your subscription today to start exploring over 300 years of history." Use promo code BNA30SUMMER at checkout to get your savings! Sale valid through August 18th.  VIEW DETAILS
Genealogy Bargains Categories
Here is a quick directory of deals available at Genealogy Bargains (click each link to jump to that location):
DNA Test Kits & Education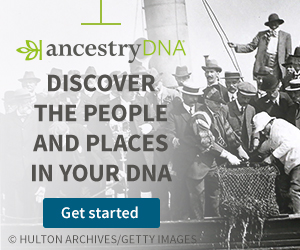 AncestryDNA UK:

Save 25%

on AncestryDNA UK during the AncestryDNA Summer Sale!  Regularly £79, now just £59! Sale valid through Wednesday, August 14th. VIEW DETAILS
The Family Finder DNA test kit, similar to the autosomal DNA test kit at 23andMe and AncestryDNA, regularly $79, now just $59! VIEW DETAILS
Y-37 Test *: Tests 37 markers. Explore your paternal lineage and follow the ancient migration path of your male ancestors. Regularly $169, now just $129! Save $40! VIEW DETAILS
Big Y-700 Test *: Big Y-700, intended for expert users, is our most advanced Y-DNA test. It analyzes ~100k SNPs and up to 700 short tandem repeats (STRs). Regularly $649, now just $499! Save $150! VIEW DETAILS
mt Full Sequence: Examines all regions of mitochondrial DNA, identifies basic haplogroup and migration paths and you get more refined results for genealogical purposes. Regularly $199, now just $149! Save $50! VIEW DETAILS
Family Finder + Y-37 Test Bundle*: Male-specific bundle includes Family Finder plus our Y-chromosome test that analyzes 37 markers.  Regularly $248, now just $178! Save $70! VIEW DETAILS
Family Finder + mtFull Sequence: Family Finder plus a Full Mitochondrial Sequence – For both males and females, our mtDNA test traces your maternal line. Regularly $278, now just $198! Save $80! VIEW DETAILS
Family Finder + Y-67 + mtFull Sequence Test Bundle*: This Comprehensive Genome (male-specific) test includes Family Finder, our 67 marker Y-DNA test plus a Full Mitochondrial Sequence, the most comprehensive and highest resolution mtDNA test available. Results identify the ethnic and geographic origins of your paternal and maternal lines.  Regularly $546, now just $387! Save $159! VIEW DETAILS
* Denotes male specific tests
And if you've already tested with Family Tree DNA and would like to upgrade your test, click HERE to see the various discounts on upgrades.
The Family Tree DNA Summer Sale is valid through August 31st so don't delay – this is a once a year event! Click HERE to shop – via Family Tree DNA
MyHeritage DNA:

Save

during the MyHeritage DNA Summer Sale! Get MyHeritage DNA Ancestry-Only test kit for just $59! This is the same autosomal DNA test kit as AncestryDNA and other major DNA vendors! BONUS! Get FREE SHIPPING when you purchase two (2) or more MyHeritage DNA Ancestry-Only test kits! Sale valid through August 12th. VIEW DETAILS
MyHeritage DNA UK: Save on MyHeritage DNA! Regularly £75,

now just

£59 PLUS get free shipping when you purchase 2+ kits! VIEW DETAILS
MyHeritage DNA Australia: Save on MyHeritage DNA!

Now just

$59 PLUS get free shipping when you purchase 2+ kits! VIEW DETAILS
Click here to return to the directory
Books for Family Historians
Amazon:

Save 29%

on The Family Tree Guide to DNA Testing and Genetic Genealogy by Blaine T. Bettinger! In this updated 2nd edition, "Discover the answers to your family history mysteries using the most-cutting edge tool available to genealogists. This plain-English guide, newly revised and expanded, is a one-stop resource on genetic genealogy for family historians. Inside, you'll learn what DNA tests are available, with up-to-date pros and cons of the major testing companies (including AncestryDNA) and advice on choosing the right test to answer your specific questions. For those who've already taken DNA tests, this guide will demystify and explain how to interpret DNA test results, including how to understand ethnicity estimates and haplogroup designations, navigate suggested cousin matches, and use third-party tools like GEDmatch to further analyze data." Regularly $29.99, order now and you pay just $21.36! VIEW DETAILS
Click here to return to the directory
Educational Webinars and Online Courses
Click here to return to the directory
Genealogy Subscription Websites
MyHeritage: FREE 14-Day Trial with MyHeritage COMPLETE and Save 50!  When was the last time you took MyHeritage for a test drive? If you haven't checked in lately, you may not realize how MyHeritage can help you make advances on your DNA, genealogy, and family history research.
It's never been easier to explore your family history!
Build your family tree online and discover your family's past: Start your family tree by entering information about the relatives you know
Research your family with our collection of historical records: Search 9.6 billion historical records to learn more about the people in your tree
Grow your tree through automatic matches to other family trees: Uncover more of your family's story with our automatic search technology
BONUS: once your 14-day FREE Trial is over, you'll receive an offer for 50% OFF your first year of MyHeritage Complete! Click HERE to get started!
Newspapers.com: Right now, Newspapers.com has an amazing offer if you use historical newspapers as part of your genealogy research!  Get the Publishers Extra version of Newspapers.com for a six-month period for just $74.90!  The regular price is $119.40 and this is a savings of 37% off that price  – VIEW DETAILS
Click here to return to the directory
Photo Organization and Preservation
Amazon: Save 58% Picture Keeper 8GB USB Photo Backup! Worried about backing up all those scanned images? No worries with the Picture Keeper system which actually scans and FINDS your photos!
EASE OF USE – Once the software is installed – Just click "Start Backup," and relax as it does the work for you!
ON-THE-GO – Anywhere, anytime. No internet required, bring it on your next remote island vacation!
WORKS ON MOST COMPUTERS – MAC and PC Compatible with Free Software included!
USE ON MULTIPLE COMPUTERS – Software knows where each backup left off. Once one Picture Keeper fills up, just plug in the second one and it continues where the other left off!
PEACE OF MIND – Set backup reminders to keep all of your memories safe and secure
Also available in 4GB, 16GB, and 32GB sizes. Regularly $59.99, now just $29.99! VIEW DETAILS
Click here to return to the directory
Genealogy Software and Technology
Evidentia: Save 15% on ALL items at Evidentia! "Evidentia not only solves the problems facing the genealogy community, but also simplifies the process of analyzing evidence and creating proof arguments while still following the Genealogical Proof Standard (GPS)." There is also a FREE 14-day trial available! If you haven't checked out this amazing software, you really it owe to yourself and your genealogy research to do so! Regularly $29.99, you pay just $25.49. You must use HIDEFGEN at checkout!

Offer good on all books and guides as well!

 – VIEW DETAILS
iDrive:

90% off

iDrive automatic online backup! Regularly $69.50 per year, you get the first year of 2TB cloud storage for just

$6.95

! Once you've scanned all those family photos, you need to have a data backup right? This is a "set it and forget it" program like Carbonite but much better: you can backup your mobile devices and even Facebook images! VIEW DETAILS
Click here to return to the directory
Give the Gift of Family History
While this might be up to debate, we love to give family history gifts this time of year as well as receive them! So check out the products below for quick and easy gifts you can give to any member of the family!
Click here to return to the directory
©2019, copyright Thomas MacEntee.  All rights reserved.