Today's Genealogy Bargains – Tuesday, June 16th, 2020
Today is Tuesday, June 16th, 2020 and we've got lots of new deals on DNA, genealogy and family history at GenealogyBargains.com!
FEATURED Genealogy Bargain
Ancestry: AMAZING SAVINGS up to 40% during the Ancestry Father's Day Sale! Save on AncestryDNA test kits as well as Ancestry Gift Memberships!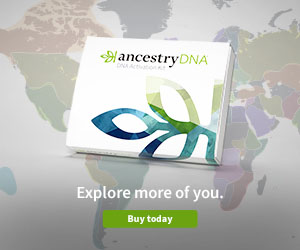 NEW Genealogy Bargains
MyHeritage: Enjoy FREE ACCESS to a Different Record Collection Every Day in June at MyHeritage! MyHeritage just made a HUGE ANNOUNCEMENT concerning its amazing record collections! Starting Monday, June 1st through the end of the month, one special record collection will be available for FREE each day! VIEW DETAILS
1921 Canada Census

with 8,683,491 records. The 1921 Canada Census was conducted on June 1, 1921 and enumerated over 8.6 million individuals. Information recorded in the census includes: name, relationship to head of household, marital status, age at last birthday, birthplace, nationality, immigration year, naturalization year, and religion. Additional questions recorded information regarding occupation, education, literacy, and infirmities. Click

HERE

for access!
DNA Test Kits & Education
Family Tree DNA: Save up to 25% on select DNA tests during the Family Tree DNA Father's Day Sale!  Family Tree DNA is holding an AMAZING Father's Day Sale with some GREAT prices on DNA test kits and bundles! "Father's Day is almost here, so get a jump on honoring Dad with extra savings on our best-selling DNA kits for ancestry. Give the gift of family discovery—because Dad genes never fade." Family Finder DNA test kit, regularly $79, now just $59! Y-DNA test kits starting at just $109! VIEW DETAILS
MyHeritage DNA: Save $30 on MyHeritage DNA during the MyHeritage Father's Day DNA Sale!

Get the

MyHeritage DNA Ancestry-Only test kit for just $49! This is the same autosomal DNA test kit as AncestryDNA and other major DNA vendors!  BONUS! Purchase 2 or more MyHeritage DNA test kits and standard shipping is FREE! Sale good through Sunday, June 21, 2020. VIEW DETAILS
Educational Webinars and Online Courses
Legacy Family Tree Webinars:

FREE WEBINAR

Genealogical Treasures in Irish Archives presented by David Ouimette, CG, Tuesday, June 16th, 2020, 8:00 pm Eastern / 7:00 pm Central / 6:00 pm Mountain / 5:00 pm Pacific. An enormous variety of Irish manuscripts tell the stories of our ancestors. Parish registers, census returns, Griffith's Valuation, and civil registration of births, marriages, and deaths provide a great beginning for Irish family history research. However, a careful search of record repositories in the Republic of Ireland and the United Kingdom reveals many more Irish archives of great worth. These include collections of estate papers, tenement and townland valuations, valuation revision books, tithe applotments, poor law registers, vestry minutes, ordinance survey maps, deeds and memorials, National School registers, militia lists, electoral rolls, Petty Sessions court registers, Irish Reproductive Loan Fund records, outrage papers, and much more. This presentation highlights the value of these Irish records, where they are found, and fruitful research strategies. Click HERE to register for FREE – via Legacy Family Tree Webinars. 
Legacy Family Tree Webinars:

FREE WEBINAR

Bridging the Gap: Finding Ancestors in the United States between 1780 and 1840 presented by D. Joshua Taylor, MA, MLS, Wednesday, June 17th, 2020, 2:00 pm Eastern / 1:00 pm Central / 12:00 pm Mountain / 11:00 am Pacific. Have you lost an ancestor between 1780 and 1840? Often connecting our ancestors to colonists can be quite a task. Learn how to employ probate, land, census, tax, and other compiled records to help bridge the gap. Click HERE to register for FREE – via Legacy Family Tree Webinars. 
Genealogy Subscription Websites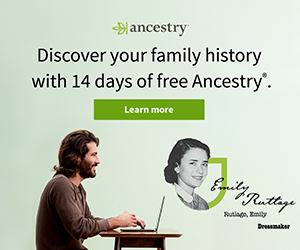 Ancestry: Don't settle for the usual this Father's Day—get Dad something more memorable, like a closer look at his past. Save on a variety of Ancestry Gift Memberships all at 20% off***! VIEW DETAILS
Fold3:

Save 25%

on a Fold3 Membership* and get access to military records, city directories and newspapers. Did you know that Fold3 has over 2 million pages (around 100 million names), in its City Directories Collection with records dating back to 1785. Before phone books came into the picture, many cities and towns published directories of their residents. Regularly $79.95 USD, pay just $59.95 USD! VIEW DETAILS
*Offer available for new Fold3 subscribers only and not for renewal of current subscriptions. Billed in one payment of $59.95 for a one-year subscription. Your subscription will automatically renew at list price after the introductory 1-year offer.
Newspapers.com:

Save $10

on Newspapers.com Publisher's Extra! Were you one of the OVER 5,000 followers who took advantage of the FREE ACCESS period last month at Newspapers.com?
Still have more to find with the Newspapers.com Publisher's Extra? Right now, Newspapers.com has an amazing offer if you use historical newspapers as part of your genealogy research!  Get the Publishers Extra edition of Newspapers.com for a six-month period for just $64.90!  The price is $139.40 USD when paying monthly, and this is a savings of $75 off that price. Click HERE to get started . . .
*Offer ends Jun 30, 2020 at 11:59PM MT. Offer available for new Publisher Extra subscribers only and not for renewal of current subscriptions. Billed in one payment of 64.90 for a 6-month Publisher Extra subscription. Your subscription will automatically renew at list price after the introductory 6-month offer.
MyHeritage: Having trouble finding success with your genealogy research? Ready to make the leap to MyHeritage? Here's a way to try MyHeritage Complete for FREE and also save 50%! – VIEW DETAILS
Genealogy Software and Technology
iDrive:

Save 90%

on iDrive 2TB automatic backup! Regularly $69.50 per year, you get the first year of 2TB cloud storage for just

$6.95

! Once you've scanned all those family photos, you need to have a data backup right? This is a "set it and forget it" program like Carbonite but much better: you can backup your mobile devices and even Facebook images!  VIEW DETAILS
Photo Organization and Preservation
PRICE DROP!

Amazon:

Save up to 67% on

Picture Keeper USB Photo Backup! Worried about backing up all those scanned images? No worries with the Picture Keeper system which actually scans and FINDS your photos!
EASE OF USE – Once the software is installed – Just click "Start Backup," and relax as it does the work for you!
ON-THE-GO – Anywhere, anytime. No internet required, bring it on your next remote island vacation!
WORKS ON MOST COMPUTERS – MAC and PC Compatible with Free Software included!
USE ON MULTIPLE COMPUTERS – Software knows where each backup left off. Once one Picture Keeper fills up, just plug in the second one and it continues where the other left off!
PEACE OF MIND – Set backup reminders to keep all of your memories safe and secure
Also available in 4GB, 16GB, and 32GB sizes. Right now, the 8GB size, regularly $59.99, now just $29.99!   VIEW DETAILS
Give the Gift of Family History

©2020, copyright Thomas MacEntee.  All rights reserved.