Father's Day sales on DNA test kits end Sunday, June 21st!
Here's your LAST CHANCE to get a basic autosomal DNA test for as low as $49 during Father's Day sales at Ancestry, FamilyTreeDNA, and MyHeritage!
AncestryDNA Sale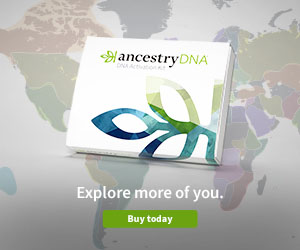 FamilyTreeDNA Sale
Save up to 25% on select DNA tests during the Family Tree DNA Father's Day Sale!  Family Tree DNA is holding an AMAZING Father's Day Sale with some GREAT prices on DNA test kits and bundles!
"Father's Day is almost here, so get a jump on honoring Dad with extra savings on our best-selling DNA kits for ancestry. Give the gift of family discovery—because Dad genes never fade."
Family Finder DNA test kit, regularly $79, now just $59! Y-DNA test kits starting at just $109! VIEW DETAILS
MyHeritage DNA
Save $30 on MyHeritage DNA during the MyHeritage Father's Day DNA Sale! Get the MyHeritage DNA Ancestry-Only test kit for just $49!
This is the same autosomal DNA test kit as AncestryDNA and other major DNA vendors!
BONUS! Purchase 2 or more MyHeritage DNA test kits and standard shipping is FREE! Sale good through Sunday, June 21, 2020. VIEW DETAILS
©2020, copyright Thomas MacEntee. All rights reserved.