Give in person or send these amazing DNA and Genealogy gifts to those who say they want nothing!
The countdown to Christmas and Hanukkah is on and you might be struggling to find the perfect gift for a parent, a grandchild, a neighbor or a co-worker. While in the past a "gift card" may have seemed "impersonal," these days they offer flexibility for both you, the gift giver, and the gift recipient!
From DNA test kits to memberships at genealogy websites such as Ancestry and MyHeritage, you can give the gift of family history and even inspire family and friends to start their own journey of tracing their roots and discovering their ancestors!
Use these quick links to jump to the last-minute gift of your choice or scroll down to see all the amazing gift choices!
Ancestry Gift Memberships 30% OFF!
NEW! Ancestry: Save 30%* on an Ancestry® Gift Membership. Bring your loved ones closer to their past—and each other. Click the ad below to get started!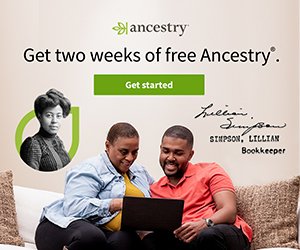 *Offers end 31 Dec 2022 at 11:59 p.m. ET. Offers available for new gift memberships only and not for renewal of current gift memberships. Keep in mind that this is a one-time, non-renewing membership and you will only be billed for the cost of the membership you select above.
FamilytreeDNA Gift Card
FamilyTreeDNA's ancestry testing services are the perfect gift for yourself, a friend, a loved one, or all of the above! VIEW DETAILS
How it works
Purchase: Select the gift card amount and design of your choice and complete your purchase.
Send: We will send an email with the gift card to you or your chosen recipient. You will also have the option to print out your gift card.
Redeem: Redeem gift card for any FamilyTreeDNA testing service. No expiration date.
Findmypast Gift Memberships
BIG SALE! Save 25% on Select Gift Subscriptions at Findmypast! There's no present like their past! CLICK BELOW TO VIEW DETAILS!
United States
United Kingdom
Australia
Ireland
MyHeritage Gift Membership – 50% OFF!
Give them a gift they'll cherish forever. A gift membership grants your loved one full access to the Complete plan, MyHeritage's best plan for family history research, which includes all tools, features, and historical records. It's a meaningful gift that's delivered straight to the recipient's email on the date of your choosing. This is a one-time, non-renewing membership. VIEW DETAILS
Newspapers.com Gift Memberships
Find the stories of your family by searching 22,000+ papers on Newspapers.‌com™, the largest online newspaper archive. Whether it's a familiar family story or a long‑forgotten memory, the possibilities for what you might discover are endless!
Give the gift of discovery with a subscription to Newspapers.com.™ Each gift unlocks a 6-month Newspapers.com™ Publisher Extra® subscription, giving the recipient access to the largest online newspaper archive. Your gift will enable your loved one to make new insights and find connections between the past and present. It's fun, fast, and easy to use. This is a one-time, non-renewing subscription. Click the image below to get started!
©2022. copyright Thomas MacEntee. All rights reserved.