FREE ACCESS* at Newspapers.com! Find Your Mom in the Papers!
NEW! Newspapers.com: FREE ACCESS to ALL NEWSPAPERS at Newspapers.com! Learn about the women who came before you! Find the stories of the women in your family by searching 18,000+ papers on Newspapers.‌com™, the largest online newspaper archive. From the front page to the sports page, from local news to social news, from birth & marriage announcements to classifieds & photos—discover your mom, grandma, and more in the paper this Mother's Day! You have FREE ACCESS to the entire Newspapers.‌com™ archive for a limited time.* Search now and share your finds with the hashtag #MomInThePaper! Click BELOW to register and GET FREE ACCESS!
*Access to all papers on Newspapers.‌com™ will be free until 10 May 2021 at 11:59 p.m. MT. Free access available via the links in this email only. Registration required. After the free access period ends, you will only be able to view papers using a paid Newspapers.‌com™ Publisher Extra subscription. Terms and Conditions apply.
And don't forget my FREE CHEAT SHEET Historical Newspapers: 10 Tips and Tricks for Genealogy! Click the image below for the PDF download!
---
Save 30%* on Ancestry® Gift Memberships
NEW! Ancestry: Get up to 30%* off an Ancestry® Gift Membership and make Mom's day!
*Offers end 9 May 2021 at 11:59 p.m. ET. Offers available for new gift memberships only and not for renewal of current gift memberships.
---
Save 40% during Picture Keeper Mother's Day Sale
NEW! Picture Keeper: WOWZA! Save up to 40% on Picture Keeper devices – the easy way to backup your photos and find DUPLICATES! Plus FREE SHIPPING on orders over $50 USD! Use promo code MOM40 at checkout to claim your savings! Click below to shop!
---
Save $40 USD or more on AncestryDNA
NEW! AncestryDNA©: YES! You can save $40 USD or more on AncestryDNA© during the AncestryDNA© Mother's Day Sale! AncestryDNA© – the world's most popular personal DNA test kit – regularly $99 USD, now just $59 USD!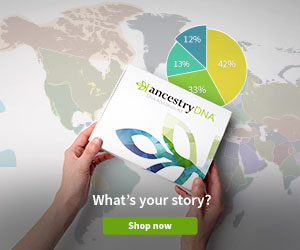 Plus get the AncestryDNA© + Family Tree Bundle (with a 3 month World Explorer Membership), for just $60 USD! Sale valid through Sunday, May 9th, 2021 …. don't delay! VIEW DETAILS
*Offers end 9 May 2021 at 11:59 p.m. ET. While supplies last. Family Tree Bundle offer is for new and returning subscribers only and not for renewal of current subscriptions. Your subscription will automatically renew at $79.95 every three months after the introductory 3-month offer. If you don't want to renew, cancel at least two days before your renewal date by visiting the My Account section or by contacting us. See our Renewal and Cancellation Terms for further details.
---
MyHeritage DNA Mother's Day Sale – Just $59 USD plus FREE SHIPPING!
NEW! MyHeritage: Get the MyHeritage DNA test kit for just $59 USD! This is the same autosomal DNA test kit as AncestryDNA and other major DNA vendors! BONUS! Purchase 2 or more MyHeritage DNA test kits and standard shipping is FREE! Sale good through Sunday, May 9th, 2021. Click below to start shopping!
---
Family Finder just $59 USD and save on mt-DNA test kits at FamilyTreeDNA during Mother's Day Sale
NEW! FamilyTreeDNA: Save $20 USD on the Family Finder DNA test kit – now just $59 USD! Family Finder is the same type of basic autosomal test kit sold by AncestryDNA and others! PLUS save $20 USD on mtDNA test kits to explore your maternal ancestry. Click below to start shopping!
---
HUGE SAVINGS on Genealogy Must-Haves at Amazon!
---
Save BIG on External Hard Drives and USB Flash Drives at Amazon!
I purchase almost ALL of my tech gadgets and backup devices at Amazon … free shipping and a liberal return policy seals the deal for me!  Check out these amazing deals on external hard drives including the super fast SSD drives!
---
Save 15% on FamilyTreeWebinars.com Memberships
All live webinars are free and their recordings are free to watch for the first seven (7) days. But with a subscription to FamilyTreeWebinars.com you get these additional benefits:
Access to 1) all the existing 1,400+ classes in the library, 2) plus the 120+ webinars that will be added during the 2021 season, 3) plus any additional bonus members-only webinars (hundreds of these so far), 4) plus the TechZone–all available for the duration of your membership
Access to all 5,400+ pages of instructors' handouts plus the new handouts of the 2021 season
Chat logs from the live webinars
Chance for a bonus subscribers-only door prize during each live webinar
Additional members-only BONUS webinars
Playlist, resume watching, and jump-to features
Save 15% on an Annual Membership: Regularly $49.95, pay just $42.46 when you use promo code thomas15 at checkout.
Visit http://legacy.familytreewebinars.com/?aid=4438 for more information.
---
Save 90% on 5TB Automatic Bac
k
up at iDrive!
Save 90% on iDrive Automatic Backup! FINALLY get an automated backup program for your #genealogy research! SET IT and FORGET IT! SHOP NOW
Multi-Device Backup: Backup unlimited PCs, Macs, iPhones, iPads and Android devices into a single account. In addition, data from mapped drives can also be backed up.
Online File Sync: Files and folders will be synced in real time across all the devices that you link using IDrive. Sync storage does not impact your backup storage, and matches your backup storage limit.
IDrive® Snapshots: Snapshots provide historical view of data for point-in-time recovery and help protect against ransomware; IDrive retains up to 30 previous versions of all files backed up to your account.
Manage Computers: Web-based console helps you manage data backups, restores, application settings and more, on your far-away computers.
Disk Image Backup: Backup entire drive including OS, settings, programs, files/folders, with contents and information structure intact.
Security and Privacy: Transfer and store your files with 256-bit AES encryption using a user-defined key that is not stored anywhere on the servers.
Fast-Fast-Fast: Incremental and compressed backups will ease your network bandwidth by transferring the modified portions of a file.
Real Time Backup: IDrive automatically recognizes the modified parts of files and backs them up in real-time.
Facebook Backup: Now you can easily backup Facebook photos and videos uploaded by you or tagged by your friends.
©2021, copyright Thomas MacEntee. All rights reserved.