AncestryDNA St. Patrick's Day Sale – Save $40 USD!
NEW! Ancestry: "Make this St. Paddy's Day all about family. Let your DNA bring you closer to your Irish past and to the people who matter most." AncestryDNA test kit, regularly $99 USD, now just $59 USD! Click the ad below to SHOP NOW!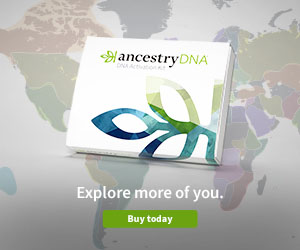 *Offers end 17 March 2021 at 11:59 p.m. ET.
---
Save 20% SITEWIDE at Genealogical Publishing Company
RootsTech Conference Special! Save 20% on ALL PRODUCTS at Genealogical Publishing Company now through Monday, March 9th, 2021! Use promo code RTV21 and don't forget …. FREE SHIPPING on orders over $50 USD! Click HERE to SAVE!
---
HUGE SAVINGS on Genealogy Must-Haves at Amazon!
---
---
---
EXTENDED!

FREE ACCESS to MyHeritage Advanced DNA Features!
MyHeritage allows you to upload your DNA data from other providers and get DNA Matches for free, but a one-time unlock fee of $29 (or a Complete plan with MyHeritage) has been required to access the advanced DNA features — and that includes the Ethnicity Estimate and the new Genetic Groups.
Well, we don't want you to feel left out just because you tested with another service! For a limited time only, between February 21 through March 8, 2021, we are waiving the unlock fee. You can now upload your DNA data* to MyHeritage and get access to your Ethnicity Estimate, Genetic Groups, and other advanced DNA tools such as the Chromosome Browser, AutoClusters, and Theory of Family Relativity™ — absolutely free! These features will remain free forever for the DNA kits you upload to MyHeritage during this week.
*DNA data uploaded to MyHeritage is completely private and secure. Only you can see the DNA data you upload.
---
Save 15% on FamilyTreeWebinars.com Memberships
All live webinars are free and their recordings are free to watch for the first seven (7) days. But with a subscription to FamilyTreeWebinars.com you get these additional benefits:
Access to 1) all the existing 1,400+ classes in the library, 2) plus the 120+ webinars that will be added during the 2021 season, 3) plus any additional bonus members-only webinars (hundreds of these so far), 4) plus the TechZone–all available for the duration of your membership
Access to all 5,400+ pages of instructors' handouts plus the new handouts of the 2021 season
Chat logs from the live webinars
Chance for a bonus subscribers-only door prize during each live webinar
Additional members-only BONUS webinars
Playlist, resume watching, and jump-to features
Save 15% on an Annual Membership: Regularly $49.95, pay just $42.46 when you use promo code thomas15 at checkout.
Visit http://legacy.familytreewebinars.com/?aid=4438 for more information.
---
Save 90% on 5TB Automatic Backup at iDrive!
Save 90% on iDrive Automatic Backup! FINALLY get an automated backup program for your #genealogy research! SET IT and FORGET IT! SHOP NOW
©2020, copyright Thomas MacEntee. All rights reserved.