HERE'S HOW YOU CAN SUPPORT MY FREE GENEALOGY CONTENT! Please use the growing list of links BELOW. I make a small percentage of your purchase AND it DOES NOT INCREASE what you pay. PLEASE CLEAR OUT YOUR COOKIES, if possible, BEFORE using the links below.
If you have a deal to share, please email at hidefgen@gmail.com and I will try to get a link that benefits all of us. THANK YOU!
UNBELIEVABLE! MyHeritage DNA Just $36 USD? 
MyHeritage DNA

Lowest price ever!
Only

$36

$89
+
30-day Complete free trial
Order now
Hello The Genealogy Bargains readers,
Looking for the perfect holiday gift? Get MyHeritage DNA for the lowest price EVER — only $36 (

$89

) per kit. As a Black Friday bonus, you can also get a 30-day free trial* for the Complete plan — our best plan for family history research. If you decide to keep the plan, you'll enjoy a 50% discount off the regular price!
Here's what you'll get with this exclusive package:
| | Discover origins across 2,114 regions |
| --- | --- |
| | Find new relatives through shared DNA |
| | Build an unlimited family tree |
| | Explore 18.7 billion historical records |
| | Receive automatic matches to grow your family tree and gain new insights about your ancestors |
| | Access all photo tools + Deep Nostalgia™ |
Buy as many kits as you want for ONLY $36 each!
Enjoy FREE SHIPPING on orders of 2+ kits and a beautiful gift wrap option.
Order now
* After 30 days, you'll enjoy a 50% discount and be charged

$299

$150 for the first year. The Complete plan renews annually and you can cancel at any time.
Offer expires on December 4, 2022, at 11:59 PM
Happy shopping!
Thomas MacEntee
---
AncestryDNA Holiday Sale – Just $59 USD!
NEW! AncestryDNA: AncestryDNA® Holiday Sale is ON NOW! Save up to $50 USD on a DNA gift for family and surprise them with something truly unique. AncestryDNA® gives you much more than just the places you're from. With clear-cut historical insights and rich geographic details, we connect you to the places in the world where your story started – and you might even discover living relatives.
Regularly $99 USD, now just $59 USD! BONUS: For just $1 USD more, get a 3-month World Explorer Membership! Click the ad below to get started!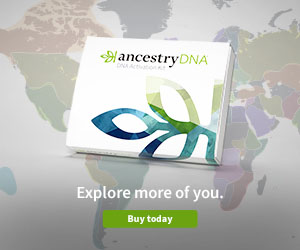 *Offers end 31 Dec 2022 at 11:59 p.m. ET. Excludes shipping. Package offer is for new and returning subscribers only and not for renewal of current subscriptions. Your World Explorer subscription will automatically renew at $79.95 every 3 months or your All Access subscription will automatically renew at $119 every 3 months until you cancel by visiting your Account Settings or by contacting us. See our Renewal and Cancellation Terms for further details.
---
Save 30% on Ancestry Gift Memberships!
NEW! Ancestry: Save 30%* on an Ancestry® Gift Membership. Bring your loved ones closer to their past—and each other. Click the ad below to get started!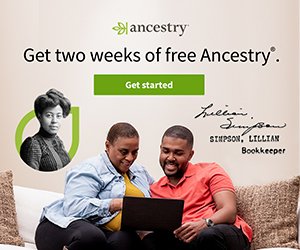 *Offers end 31 Dec 2022 at 11:59 p.m. ET. Offers available for new gift memberships only and not for renewal of current gift memberships. Keep in mind that this is a one-time, non-renewing membership and you will only be billed for the cost of the membership you select above.
Can You Use an Ancestry Gift Membership Yourself?
Actually, if you currently have a paid Ancestry subscriptions OR if you just have a free account, there are ways you can get an Ancestry Gift Membership for yourself!
Basically, for current Ancestry paid members, you will need to CANCEL your current membership and then use the Ancestry Gift Membership. You can set the start date for 90 days in advance – so this option only works if your current Ancestry paid membership expires soon.
From the Ancestry Gift Membership FAQ:
Can I buy a gift membership for someone who is already registered with Ancestry? Yes, as long as your recipient doesn't have an active, paid subscription. If you buy a gift membership and then find out your recipient has an active paid subscription, you can transfer the gift membership to someone else by calling Ancestry Member Services via the local phone numbers below—or request a refund within thirty days of your original purchase date, as long as it is prior to the gift start date that you selected when you purchased the gift membership. No refunds are available after the gift membership gift start date.
---
Ancestry All-Access Family Plan!
Did you know that Ancestry has an All-Access Family Plan with 5 individual accounts all for one low monthly price?
---
Save 30%** on Ancestry with AARP Membership!
Save 30%* on Ancestry® with your AARP member discount … existing members too! Upgrade your World Explorer or All Access membership for the first year!** Click HERE or below to get started!
**30% discount applicable for the first year of your subscription. Terms apply. AARP commercial member benefits are provided by third parties, not by AARP or its affiliates. Providers pay a royalty fee to AARP for the use of its intellectual property. These fees are used for the general purposes of AARP. Some provider offers are subject to change and may have restrictions.
†One free trial per user. Free trial requires registration with a valid credit or debit card. You will be charged the full amount of your chosen membership price on expiry of the free trial, unless you cancel at least 2 days before the end of your free trial by visiting your My Account section or by calling 1-800-ANCESTRY. Memberships auto-renew at the end of your subscription period and your payment method will be debited the then applicable rate. To avoid auto-renewing cancel at least 2 days before your renewal date by visiting My Account.
---
Save 85%* on Ancestry with World Explorer Student Plan!
NEW! Ancestry: Eligible college or university students can save 85% with the World Explorer Student Plan at Ancestry. Regularly $39.99 USD a month, eligible college or university students pay just $4.99 USD a month! Click below to get started!
* Eligible students only, requires annual verification. Offer valid for students enrolled at a U.S. Title IV accredited college or university who meet verification qualifications. Verification performed through SheerID.
---
Have you been waiting FOREVER for the best discount or promo code on genealogy products and services? Which specific websites? Ancestry? MyHeritage? Fold3? And which products … books? Office supplies? Click HERE to add your feedback at our Facebook page or email us at hidefgen @ gmail.com!
©2022. copyright Thomas MacEntee. All rights reserved.