Here are the LATEST deals on DNA test kits, genealogy books and webinars, and more!
AncestryDNA:

Save 50%

on the World's Most Popular DNA test kit!

Just $49 USD!

SHOP NOW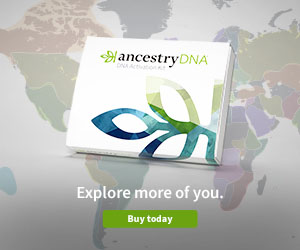 AncestryHealth: Save $80 USD – only $99 USD plus get 3 months of Ancestry World Explorer for just $1 USD! SHOP NOW
Evidentia: Save 20% on Evidentia Software to help you find errors in your genealogy research! Also organizes your source citations and suggests possible record sets! SHOP NOW
Family History Hound:

Save 10%

at Family History Hound! My friend Ellen Thompson-Jennings runs this fun and quirky online store – Family History Hound – where you never know what you'll find! From DNA books, to book lights, to amazing family history inspired jewelry! Save 10% when you use promo code Thomas2021 at checkout! SHOP NOW
NEW!

FamilyTreeDNA: Save up to $70 USD on Y-DNA and mtDNA test from FamilyTreeDNA … make REAL PROGRESS with your DNA and genealogy research! SHOP NOW
Fold3: Save 40% during the Fold3 Cyber Week Sale and get access to over 600 MILLION records! Includes over 200 MILLION non-military records including Newspapers and City Directories! Valid through December 6, 2020. SHOP NOW 
iDrive: Save 90% on iDrive Automatic Backup! FINALLY get an automated backup program for your #genealogy research! SET IT and FORGET IT!

SHOP NOW
Legacy Family Tree: CYBER WEEK SALE at Legacy Family Tree! Get 50% off an annual webinar membership (for new memberships only)! Get 50% off Legacy Family Tree 9.0 deluxe software! Sale valid through Friday, December 4, 2020. SHOP NOW
NEW!

MyHeritage: Save during the MyHeritage Holiday DNA Sale! Get MyHeritage DNA for just $49 USD plus FREE SHIPPING when you buy two or more kits! Get ready for big advances in your genealogy research!

SHOP NOW
MyHeritage In Color™ Just Got Better! Since its release in February 2020, MyHeritage users have uploaded millions of family photos and used the new MyHeritage Photo Tools to enhance and colorize images. I've been a HUGE fan of these tools and now MyHeritage announces major improvements in the colorization method. Try out these tools TODAY at MyHeritage! TRY HERE FOR FREE
MyHeritage: Save Up to 50% on Mixtiles via MyHeritage! A WILD way to turn your family photos into shareable gifts! I just purchased a set for my 89-year old father-in law. His response? BEST GIFT EVER! SHOP NOW
MyHeritage: Save 50% on MyHeritage Gift Membership! Give to yourself or to a genealogy buddy – as low as

$99 USD

, regularly $199 USD! SHOP NOW
National Institute for Genealogical Studies: Save 79% on Virtual Genealogy Courses – just $19 USD! Increase your genealogy knowledge this Winter! SHOP NOW
Newspapers.com: Save $20 on a 6-month Publisher's Extra subscription! Regularly $74.90 USD,

now just $54.90 USD

– that's the lowest price of the year! Get access to over 600 million historic newspaper pages! SHOP NOW 
RootsMagic: Save 66% with the Special Holiday Bundle at RootsMagic! Get this amazing bundle including RootsMagic 7, Personal Historian 3, Getting the Most Out of RootsMagic 7, and Personal Historian: The Companion Guide (a $90 USD value) for

only $29.95 USD!

Plus, you will receive a free download of RootsMagic 8 when it is released. This means that you can reserve a future copy of Version 8 at today's lower Version 7 price! SHOP NOW
Vivid-Pix: Buy One, Give One Sale on Vivid-Pix RESTORE! Get a FREE TRIAL with up to 10 photo "fixes" and you'll be AMAZED! Works to improve documents too! SHOP NOW
©2020, copyright Thomas MacEntee. All rights reserved.