HUGE SAVINGS on DNA test kits, Online genealogy courses, Webinars, and more!
Hi, it's me, Thomas MacEntee of GenealogyBargains.com. I can't guarantee that any or all of these tools are a good fit for your genealogy research or will give you the same results. As they say, your mileage may vary. But trust that every offer I post is vetted by me and is something I've used or I've fully researched. In most cases I know the CEO of the company and we've discussed their products and services. Plus, every link you click below helps me provide FREE CHEAT SHEETS as well as a low $100 USD webinar price for genealogy societies and libraries which are really struggling right now.  I thank you for following me and your time.
Amazon: Seagate 2TB Portable External Hard Drive just $54.99 USD! SHOP NOW
Ancestry: Save 50% on Gift Subscriptions at Ancestry! Get the lowest prices of the year and let them discover their story. Starting at just $49 USD! SHOP NOW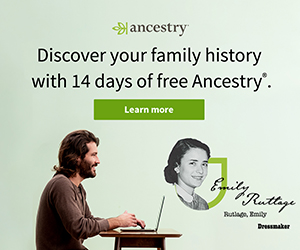 AncestryDNA:

Save 50%

on the World's Most Popular DNA test kit!

Just $49 USD!

SHOP NOW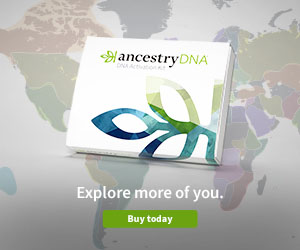 AncestryHealth: Save $80 USD – only $99 USD plus get 3 months of Ancestry World Explorer for just $1 USD! SHOP NOW
DNA

Hunters

Society: Save 50% on a 1-year membership with LIVE ZOOM sessions and make REAL PROGRESS with your DNA research in 2021! SHOP NOW
Evidentia: Save 20% on Evidentia Software to help you find errors in your genealogy research! Also organizes your source citations and suggests possible record sets! SHOP NOW
Family History Hound:

Save 10%

at Family History Hound! My friend Ellen Thompson-Jennings runs this fun and quirky online store – Family History Hound – where you never know what you'll find! From DNA books, to book lights, to amazing family history inspired jewelry! Save 10% when you use promo code Thomas2021 at checkout! SHOP NOW
FamilyTreeDNA: Save up to $70 USD on Y-DNA and mtDNA test from FamilyTreeDNA … make REAL PROGRESS with your DNA and genealogy research! SHOP NOW
Fold3: Save 40% during the Fold3 Black Friday Sale and get access to over 600 MILLION records! Includes over 200 MILLION non-military records including Newspapers and City Directories! Valid through December 6, 2020. SHOP NOW 
Genealogical Publishing Company: Now thru Monday, November 30 you can order virtually any product available at Genealogical.com at a discount of 20% off the current selling price of the books(s) or e-books of your choice. PLUS FREE SHIPPING on orders over $50 USD! Includes titles that are not frequently on sale … Evidence Explained 3rd Edition by Elizabeth Shown Mills and How to Find Your Family History in U.S. Church Records, by Sunny McClellan Morton and Harold Henderson – remember to use coupon THANKS20 at checkout!
iDrive: Save 90% on iDrive Automatic Backup! FINALLY get an automated backup program for your #genealogy research! SET IT and FORGET IT!

SHOP NOW
Legacy Box: Legacy Box Thanksgiving Sale! Save 60% on Legacy Box and get those home movies, slides, and negatives scanned and preserved! Each kit includes a guide to help you safely ship your home movies and photos. Then we'll take care of the rest: digitally preserving them on the cloud, a thumb drive, or DVD. It makes reconnecting with your past as easy a pressing play. SHOP NOW
Legacy Family Tree Webinars: Save 15% on Legacy Family Tree Webinars Subscriptions! Remember to use promo code THOMAS15 to claim your discount!

SHOP NOW
MyHeritage DNA:

$39 USD

for a DNA test kit? YES VIRGINIA there is a Santa Claus! Regularly $79 … don't let this sale GET AWAY! SHOP NOW
MyHeritage: Save Up to 50% on Mixtiles via MyHeritage! A WILD way to turn your family photos into shareable gifts! I just purchased a set for my 89-year old father-in law. His response? BEST GIFT EVER! SHOP NOW
MyHeritage: Save 50% on MyHeritage Gift Membership! Give to yourself or to a genealogy buddy – as low as

$99 USD

, regularly $199 USD! SHOP NOW
National Institute for Genealogical Studies: Save 79% on Virtual Genealogy Courses – just $19 USD! Increase your genealogy knowledge this Winter! SHOP NOW
Newspapers.com: Save $20 on a 6-month Publisher's Extra subscription! Regularly $74.90 USD,

now just $54.90 USD

– that's the lowest price of the year! Get access to over 600 million historic newspaper pages! SHOP NOW 
Picture Keeper: Save 50% on the Picture Keeper system of backing up your precious digital images, including ALL THOSE OLD FAMILY PHOTOS you scanned! Picture Keeper is MORE than just a USB drive … it looks for duplicate images, lets you rename and manage images, and more! SHOP NOW
Vivid-Pix: Buy One, Give One Sale on Vivid-Pix RESTORE! Get a FREE TRIAL with up to 10 photo "fixes" and you'll be AMAZED! Works to improve documents too! SHOP NOW
©2020, copyright Thomas MacEntee. All rights reserved.