HUGE SAVINGS on DNA test kits, Online genealogy courses, Webinars, and more!
Hi, it's me, Thomas MacEntee of GenealogyBargains.com. I can't guarantee that any or all of these tools are a good fit for your genealogy research or will give you the same results. As they say, your mileage may vary. But trust that every offer I post is vetted by me and is something I've used or I've fully researched. In most cases I know the CEO of the company and we've discussed their products and services. Plus, every link you click below helps me provide FREE CHEAT SHEETS as well as a low $100 USD webinar price for genealogy societies and libraries which are really struggling right now.  I thank you for following me and your time.
Amazon $500 Giveaway! Could you use $500 USD for food, household goods, or to feed your #genealogy habit? I'm giving away a $500 USD Amazon Gift Card and the more you share the better your chances are of winning! This is LEGIT – I do this giveaway every year to say THANK YOU to all my followers. ENTER TODAY! 
Amazon: Save 14% on SanDisk 2TB Extreme Portable External SSD! This is my NEW TECH TOY and this external storage drive is the size of a CREDIT CARD and light as a feather. Regularly $232.02 USD, now just $199.99 USD! SHOP NOW
American Ancestors: Save over 30% on a membership at American Ancestors! Become a member and unlock more than 1.4 BILLION searchable names from the nation's leading resource for family history. Regularly $94.95 USD, your Individual Membership Price is just $64.95 USD! Click the link below to automatically apply your savings, or just enter the code AACYBERMONDAY2020 at checkout to redeem. SHOP NOW
Ancestry: Save 50% on Gift Subscriptions at Ancestry! Get the lowest prices of the year and let them discover their story. Starting at just $49 USD! SHOP NOW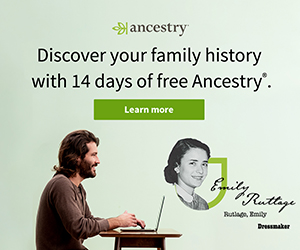 AncestryDNA:

Save 50%

on the World's Most Popular DNA test kit!

Just $49 USD!

SHOP NOW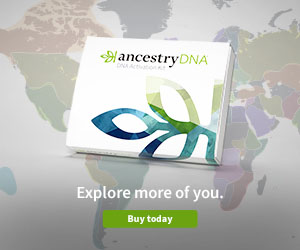 AncestryHealth: Save $80 USD – only $99 USD plus get 3 months of Ancestry World Explorer for just $1 USD! SHOP NOW
British Newspaper Archive: Save 25% on any subscription at British Newspaper Archive! Access over 40 MILLION pages dating back to the 1700s! You MUST USE promo code SAVE25 at checkout. Sale valid through Monday, November 30th. SHOP NOW
Celtic DNA Jewelry:

Save 20%

at Celtic DNA Jewelry! Show off your Celtic pride! Use promo code BF20 at Celtic DNA Jewelry! "Features of my jewelry are, Free Shipping, Rhodium Plated Sterling Silver, all pieces are Hallmarked. Each piece comes in a luxury box with a lovely story card explaining more about the Celtic symbols."

SHOP NOW
DNA

Hunters

Society: Save 50% on a 1-year membership with LIVE ZOOM sessions and make REAL PROGRESS with your DNA research in 2021! SHOP NOW
Evidentia: Save 20% on Evidentia Software to help you find errors in your genealogy research! Also organizes your source citations and suggests possible record sets! SHOP NOW
Family History Hound:

Save 10%

at Family History Hound! My friend Ellen Thompson-Jennings runs this fun and quirky online store – Family History Hound – where you never know what you'll find! From DNA books, to book lights, to amazing family history inspired jewelry! Save 10% when you use promo code Thomas2021 at checkout! SHOP NOW
FamilyTreeDNA: Save up to $70 USD on Y-DNA and mtDNA test from FamilyTreeDNA … make REAL PROGRESS with your DNA and genealogy research!

BONUS!

FREE SHIPPING if you order BEFORE December 1st! SHOP NOW
Fold3: Save 40% during the Fold3 Black Friday Sale and get access to over 600 MILLION records! Includes over 200 MILLION non-military records including Newspapers and City Directories! Valid through December 6, 2020. SHOP NOW 
Forever.com: Save up to 50% during the Forever.com Black Friday sale! FINALLY get all those slides, negatives, and home movies DIGITIZED!  Right now I am sitting on over 20 Super 8 VHS tapes from the 1990s and I will be using the Forever Box to get this DONE! Use my link and get an extra $20 USD off your order! SHOP NOW
Genealogical Publishing Company: Now thru Monday, November 30 you can order virtually any product available at Genealogical.com at a discount of 20% off the current selling price of the books(s) or e-books of your choice. PLUS FREE SHIPPING on orders over $50 USD! Includes titles that are not frequently on sale … Evidence Explained 3rd Edition by Elizabeth Shown Mills and How to Find Your Family History in U.S. Church Records, by Sunny McClellan Morton and Harold Henderson – remember to use coupon THANKS20 at checkout!
iDrive: Save 90% on iDrive Automatic Backup! FINALLY get an automated backup program for your #genealogy research! SET IT and FORGET IT!

SHOP NOW
Legacy Box: Legacy Box Black Friday Sale! Save 60% on Legacy Box and get those home movies, slides, and negatives scanned and preserved! Each kit includes a guide to help you safely ship your home movies and photos. Then we'll take care of the rest: digitally preserving them on the cloud, a thumb drive, or DVD. It makes reconnecting with your past as easy a pressing play. SHOP NOW
Legacy Family Tree: WOWZA! CYBER MONDAY SALE at Legacy Family Tree! Get 50% off an annual webinar membership (for new memberships only)! Get 50% off Legacy Family Tree 9.0 deluxe software! Sale valid through Friday, December 4, 2020. SHOP NOW
My Heritage:

LOWEST PRICE OF THE YEAR! If you've been waiting for a great sale on personal DNA test kits for genealogy research, then take advantage of the MyHeritage Cyber Monday DNA Sale! Regularly $79 USD, now just $39 USD PLUS get FREE SHIPPING when you purchase 2 or more DNA test kits! Click BELOW to shop now.
MyHeritage: Save Up to 50% on Mixtiles via MyHeritage! A WILD way to turn your family photos into shareable gifts! I just purchased a set for my 89-year old father-in law. His response? BEST GIFT EVER! SHOP NOW
MyHeritage: Save 50% on MyHeritage Gift Membership! Give to yourself or to a genealogy buddy – as low as

$99 USD

, regularly $199 USD! SHOP NOW
Namecheap: Save up to 99% on Domain Name Registration, Website Hosting, VPN and MORE at Namecheap! Need a domain name for your family history website or genealogy business website? Want to try VPN for a month for FREE? How about website hosting including WordPress sites for your genealogy society? I ONLY use Namecheap for my domain names, VPN, and more … I've been a happy customer for 10 years now PLUS they don't renew your subscription at exorbitant prices! SHOP NOW
National Institute for Genealogical Studies: Save 79% on Virtual Genealogy Courses – just $19 USD! Increase your genealogy knowledge this Winter! SHOP NOW
Newspapers.com: Save $20 on a 6-month Publisher's Extra subscription! Regularly $74.90 USD,

now just $54.90 USD

– that's the lowest price of the year! Get access to over 600 million historic newspaper pages! SHOP NOW 
Picture Keeper: Save up to 90% on the Picture Keeper system of backing up your precious digital images, including ALL THOSE OLD FAMILY PHOTOS you scanned! Picture Keeper is MORE than just a USB drive … it looks for duplicate images, lets you rename and manage images, and more! SHOP NOW
Research Write Connect Academy:

BLACK FRIDAY SALE!

 Save 50% at Research Write Connect Academy! UP your genealogy education and skill set with these amazing ONLINE COURSES from genealogy experts including Lisa Alzo, Sunny Jane Morton, Cheri Hudson Passey, Diana Crisman Smith, Paula-Stuart Warren, and more! Courses cover genealogy research, family history writing … the knowledge you need to tackle those brick walls! Use promo code SAVE50 at checkout! Sale valid through Monday, November 30th. SHOP NOW
RootsMagic: Save 66% with the Special Holiday Bundle at RootsMagic! Get this amazing bundle including RootsMagic 7, Personal Historian 3, Getting the Most Out of RootsMagic 7, and Personal Historian: The Companion Guide (a $90 USD value) for

only $29.95 USD!

Plus, you will receive a free download of RootsMagic 8 when it is released. This means that you can reserve a future copy of Version 8 at today's lower Version 7 price! SHOP NOW
SK Translations: Save 25% on Reading the Old German Handwriting Online Course plus FREE BONUS! BLACK FRIDAY SALE! Get the Reading the Old German Handwriting Course from SK Translations with three skill building levels at a HUGE SAVINGS! Regularly $129 USD per segment, enroll in the ENTIRE SERIES for just $319 USD! And with promo code ANCESTORS25 your final cost is just $239.25 USD! Don't forget to use the promo code ANCESTORS25 at checkout and save $79.75 USD on the entire 3-part course! Sale valid through Monday, November 30th, 2020. SHOP NOW
TechSmith: TODAY ONLY!

Save 25%

on SnagIt which is an amazing app! Manage and edit images, take screenshots, add annotations to images, and even create MOVIES! I USE THIS APP EVERY DAY! Regularly $49.99 USD,

now just $37.49 USD!

This is NOT a yearly subscription – pay once and that's it! SHOP NOW
Vivid-Pix: Buy One, Give One Sale on Vivid-Pix RESTORE! Get a FREE TRIAL with up to 10 photo "fixes" and you'll be AMAZED! Works to improve documents too! SHOP NOW
©2020, copyright Thomas MacEntee. All rights reserved.