Here are the LATEST deals on DNA test kits, genealogy books and webinars, and more!
AncestryDNA:

Save 50%

on the World's Most Popular DNA test kit!

Just $49 USD!

SHOP NOW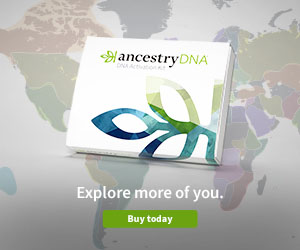 AncestryHealth: Save $80 USD – only $99 USD plus get 3 months of Ancestry World Explorer for just $1 USD! SHOP NOW
Evidentia: Save 20% on Evidentia Software to help you find errors in your genealogy research! Also organizes your source citations and suggests possible record sets! SHOP NOW
Family History Hound:

Save 10%

at Family History Hound! My friend Ellen Thompson-Jennings runs this fun and quirky online store – Family History Hound – where you never know what you'll find! From DNA books, to book lights, to amazing family history inspired jewelry! Save 10% when you use promo code Thomas2021 at checkout! SHOP NOW
LAST DAY!

FamilyTreeDNA: Save up to $70 USD on Y-DNA and mtDNA test from FamilyTreeDNA … make REAL PROGRESS with your DNA and genealogy research!

BONUS!

FREE SHIPPING if you order BEFORE December 1st! SHOP NOW
Fold3: Save 40% during the Fold3 Cyber Week Sale and get access to over 600 MILLION records! Includes over 200 MILLION non-military records including Newspapers and City Directories! Valid through December 6, 2020. SHOP NOW 
EXTENDED!

Forever.com: Save up to 50% during the Forever.com Black Friday sale! FINALLY get all those slides, negatives, and home movies DIGITIZED!  Right now I am sitting on over 20 Super 8 VHS tapes from the 1990s and I will be using the Forever Box to get this DONE! Use my link and get an extra $20 USD off your order! SHOP NOW
iDrive: Save 90% on iDrive Automatic Backup! FINALLY get an automated backup program for your #genealogy research! SET IT and FORGET IT!

SHOP NOW
Legacy Family Tree: CYBER WEEK SALE at Legacy Family Tree! Get 50% off an annual webinar membership (for new memberships only)! Get 50% off Legacy Family Tree 9.0 deluxe software! Sale valid through Friday, December 4, 2020. SHOP NOW
My Heritage:

LOWEST PRICE OF THE YEAR! If you've been waiting for a great sale on personal DNA test kits for genealogy research, then take advantage of the MyHeritage Cyber Week DNA Sale! Regularly $79 USD, now just $39 USD PLUS get FREE SHIPPING when you purchase 2 or more DNA test kits! SHOP NOW
MyHeritage: Save Up to 50% on Mixtiles via MyHeritage! A WILD way to turn your family photos into shareable gifts! I just purchased a set for my 89-year old father-in law. His response? BEST GIFT EVER! SHOP NOW
MyHeritage: Save 50% on MyHeritage Gift Membership! Give to yourself or to a genealogy buddy – as low as

$99 USD

, regularly $199 USD! SHOP NOW
National Institute for Genealogical Studies: Save 79% on Virtual Genealogy Courses – just $19 USD! Increase your genealogy knowledge this Winter! SHOP NOW
Newspapers.com: Save $20 on a 6-month Publisher's Extra subscription! Regularly $74.90 USD,

now just $54.90 USD

– that's the lowest price of the year! Get access to over 600 million historic newspaper pages! SHOP NOW 
RootsMagic: Save 66% with the Special Holiday Bundle at RootsMagic! Get this amazing bundle including RootsMagic 7, Personal Historian 3, Getting the Most Out of RootsMagic 7, and Personal Historian: The Companion Guide (a $90 USD value) for

only $29.95 USD!

Plus, you will receive a free download of RootsMagic 8 when it is released. This means that you can reserve a future copy of Version 8 at today's lower Version 7 price! SHOP NOW
Vivid-Pix: Buy One, Give One Sale on Vivid-Pix RESTORE! Get a FREE TRIAL with up to 10 photo "fixes" and you'll be AMAZED! Works to improve documents too! SHOP NOW
©2020, copyright Thomas MacEntee. All rights reserved.